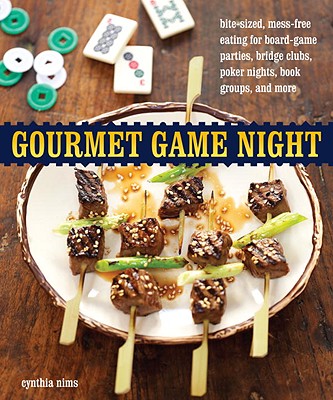 Gourmet Game Night
Bite-Sized, Mess-Free Eating for Board-Game Parties, Bridge Clubs, Poker Nights, Book Groups, and More
Paperback

* Individual store prices may vary.
Description
Have you ever accompanied an evening of game-playing with a bowl of salty chips or slabs of pizza? If so, you know that greasy fingers can be a distraction, with players interrupting the game to grab napkins or even lick their fingers immediately before grabbing the communal spinner.
Gourmet Game Night
has the solution: instead of relying on conventional convenience snacks and standbys, you ve got imaginative, homemade options; instead of greasy hands and game pieces, you ve got mess-free, bite-sized snacks.
Cookbook writer, magazine contributor, and culinary blogger Cynthia Nims offers inventive alternatives that make hands-clean dining easy, including:
Edible wrappers around savory centers (Shrimp Cakes in Shiso Leaves, page 66)
Bite-sized versions of unwieldy classics for easy grabbing between moves (Caesar Dip with Big Croutons and Romaine, page 18)
Edible bases to support tender ingredients (Tuna Tartare on Daikon Slices, page 58)
Innovative mini containers such as shot glasses for liquid fare (Chilled Avocado Soup with Roasted Poblano Cream, page 112)
Neat sweet treats paired with gooey dippers (Brown Butter Pound Cake with Caramel Dip, page 34)
And of course, party-friendly drinks poured by the pitcherful (Pomegranate-Mint Fizz, page 138)
Cynthia Nims's creative and contemporary recipes will liven up any event where free hands are of the essence, whether you re gathering friends for a poker night, rolling those dice for a board-game party, spicing up your bridge club, planning a family Scrabble tournament, or impressing your book club or knitting group Indeed, Gourmet Game Night proves that you don t need a fancy night on the town to have fun; instead, gather your friends for satisfying small bites and hopefully a winning streak at home.
Praise For Gourmet Game Night: Bite-Sized, Mess-Free Eating for Board-Game Parties, Bridge Clubs, Poker Nights, Book Groups, and More…
"Gourmet Game Night is a creative and contemporary collection of recipes that make eating well a neat and tidy prospect."
--Amy's Table, 4/5/10

"Without question, Gourmet Game Night achieves what it sets out to do. I recommend the book for anyone who hosts game nights or is looking to start.
Final verdict: nine of out of ten cherry tomatoes."
--The Puzzler, Chicago Tribune Red Eye blog, 4/5/10

"The arrival of Cynthia Nims's new Gourmet Game Night cookbook made us reevaluate our game-night mentality. We were pleasantly surprised to find that the cookbook lives up to its title, with recipes that cater to an updated game-centric gathering. The wide range of dishes offer bite-size and mess-free (to keep your fingers and your Cranium clay clean) options that don't sacrifice sophistication."
--TastingTable.com National Edition, 3/11/10

"We're all for the resurgence of old fashioned game nights—but we could do without the Doritos-dust coating our Yahtzee dice. In her brand new cookbook, Gourmet Game Night, food writer Cynthia Nims shares recipes to help game night hosts conquer the perils of sticky snacks. . . . Sounds like everybody wins."
--Seattle Magazine, March 2010

"Cookbook reviews are not something that we do a lot around here, but "Gourmet Game Night" was something we made an exception for. . . . Aside from a great variety of food, Gourmet Game Night is great book to lure your mom's bridge night into Ticket to Ride night."
--Guilt Free Games, 3/2/10

"Oh my Yahtzee! Anything that brings friends and family together sharing delicious bites of food tickles my fancy. I'm going for an Orange Negroni and a Crostini with Wild Mushroom Tapenade. My domino train is open for dinner!"
--TOM DOUGLAS, James Beard Award­–winning chef and author of Tom Douglas' Seattle Kitchen
 
"The recipes in this book, your favorite game, and some good friends: the ingredients for a great evening!"
--CORI SNYDER SCHUMAN, creator of Celebrity Chef! The Game
Ten Speed Press, 9781580080880, 150pp.
Publication Date: March 2, 2010
About the Author
Cynthia Nims studied at La Varenne Ecole de Cuisine and assisted owner Anne Willan with various cookbook projects. She has authored or coauthored twelve cookbooks, including "Memorable Recipes," "Rover s," and the Northwest Homegrown Cookbook series. Cynthia has been editor of "Simply Seafood" magazine and food editor for "Seattle" "Magazine." She contributes to "Cooking Light," "Coastal Living," and "Sunset." Cynthia and her husband live in a house with a game-lover s basement in Seattle, Washington."
or
Not Currently Available for Direct Purchase