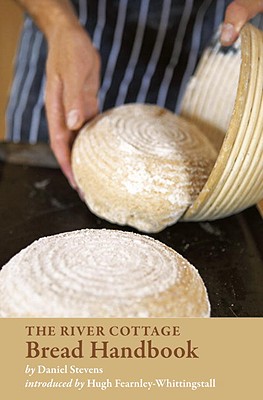 The River Cottage Bread Handbook (River Cottage Handbooks) (Hardcover)
Ten Speed Press, 9781580081863, 224pp.
Publication Date: June 15, 2010
* Individual store prices may vary.
Description
The River Cottage farm, established by British food personality Hugh Fearnley-Whittingstall to promote high-quality, local, and sustainable food, has inspired a television series, restaurants and classes, and a hit series of books. In this new addition to the award-winning collection, River Cottage baking instructor Daniel Stevens shares his irrepressible enthusiasm and knowledge to help you bake better bread. From familiar classics such as ciabatta and pizza dough, to new challenges like potato bread, rye loaves, tortillas, naan, croissants, doughnuts, and bagels, each easy-to-follow recipe is accompanied by full-color, step-by-step photos. There's even an in-depth chapter on building your own backyard wood-fired oven.
About the Author
As well as baking fresh bread every day in the River Cottage headquarter kitchens, DANIEL STEVENS leads the ever-popular Build and Bake courses, which equip students with the skills to build their own outdoor wood-fired oven. Daniel has been cooking and baking in professional kitchens for several years, both in Hertfordshire, where he grew up, and more recently in Dorset, where he now lives. He has been part of the River Cottage headquarters kitchen team since 2006.
 
HUGH FEARNLEY-WHITTINGSTALL is a renowned British broadcaster, writer, farmer, educator, and campaigner for real food. The author of seven books, including the James Beard Award-winning River Cottage Meat Book, Hugh lives with his family on the River Cottage farm.
Praise For The River Cottage Bread Handbook (River Cottage Handbooks)…
"For a touch of the homemade every day, try the River Cottage handbooks."
—Everyday Food, Favorite New Cookbooks, December 2010

"Stevens's accessible take on the subject is sure to inspire confidence, an appreciation for the craft, and a willingness to experiment."
—Publishers Weekly STARRED review, 8/23/10

"A remarkably compact, glove box-friendly guidebook to baking. . . . A bread survival book. . . . The River Cottage Bread Handbook is a refreshing change from so many American cookbooks that magically transform copious recipes into 12 easy steps and still promise fail-proof recipes."
—LA Weekly, 8/11/10

"Be prepared to make space on your cookbook shelf for these practical, passionate guides. . . . Stevens lays down a bread-making foundation with an in-depth introduction (and full-color step-by-step photos), then proceeds to help readers perfect their skills in his witty, conversational style."
—Oregonian, 8/3/10

"These compact yet comprehensive hardcover volumes, part of a series written by experts in the River Cottage fold, inspire and instruct with their English charm, deploying a chatty hand-holding that nudges you through the process. The head River Cottage baker, Daniel Stevens, who put together THE RIVER COTTAGE BREAD HANDBOOK spends over 40 pages on mastering the basic loaf. His kneading explanation was so clear I didn't need to constantly refer to the photos; and it taught me some new tricks. . . .This wide-ranging book inspires exploration, and not just because I'll soon be able to slather my warm Scottish oatcakes, roti and even bagels with my own jam, thanks to THE RIVER COTTAGE PRESERVES HANDBOOK. Here Pam Corbin, who runs the Preserving Days at River Cottage, explains the fundamentals of jam, jelly, chutney, cordials, pickles, sauces and more in a demystifying manner. . . . Recipes for hearty ale chutney, spring rhubarb relish and Hugh's prizewinning raspberry fridge jam are within delicious reach."
—NY Times Book Review, Summer Reading Issue, Cookbook Roundup, 6/6/10

"This book is not only beautiful and inspiring but it also adds new bread-making ideas and formulas to the lexicon. It definitely goes on my 'must-have' bread shelf."
—Peter Reinhart, author of the James Beard and IACP Cookbook of the Year, The Bread Baker's Apprentice