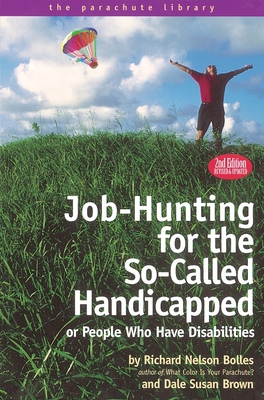 Job-Hunting for the So-Called Handicapped: Or People Who Have Disabilities (Paper Textbook)
Or People Who Have Disabilities
Ten Speed Press, 9781580081955, 160pp.
Publication Date: October 16, 2001
* Individual store prices may vary.
or
Not Currently Available for Direct Purchase
Description
Richard Bolles'-'s WHAT COLOR IS YOUR PARACHUTE? has helped millions of readers find their path in life, and now his creative approach to job-hunting is brought to bear on the specific challenges faced by job hunters with disabilities. In JOB-HUNTING FOR THE SO-CALLED HANDICAPPED, Bolles and Dale Susan Brown guide readers through the often-frustrating, but ultimately rewarding process of securing independence in their lives and personal satisfaction in their careers. The authors begin by demystifying the intricacies of the ADA, describing in clear terms what the act does and does not guarantee disabled job hunters, and then move on to job-hunting strategies tailored specifically to people with disabilities.
About the Author
DALE S. BROWN is the author of four books related to the careers of people with disabilities, including Learning A Living. She was active in the development of Americans with Disabilities Act, and won several awards as a result of her work. She lives in Washington D.C. RICHARD NELSON BOLLES is the best-selling author of WHAT COLOR IS YOUR PARACHUTE? and has been a leader in the career development field for more than 35 years. He lives in the San Francisco Bay Area.
Advertisement