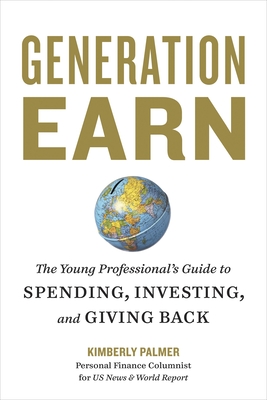 Generation Earn: The Young Professional's Guide to Spending, Investing, and Giving Back (Paperback)
The Young Professional's Guide to Spending, Investing, and Giving Back
Ten Speed Press, 9781580082365, 230pp.
Publication Date: October 12, 2010
Description
As a young professional today, you are part of a generation with greater earning power and more advanced degrees than preceding ones—along with a fresh, holistic outlook on financial success. Yes, you might have taken out more debt than previous generations, but that doesn't mean you're a slacker living off credit cards and takeout as media pundits would have people believe. Kimberly Palmer, the Alpha Consumer columnist for US News & World Report, frequently receives questions from twenty-, thirty-, and forty-something readers like you about making smart, sustainable life choices, including:

What should I be doing with my savings?  •  Should I take on freelance jobs?  •  Where should I invest my money?  •  Should I buy a house or keep renting?  •  Does it make sense to share a mortgage with my significant other?  •  Can I afford a baby?  •  How can I support the causes I believe in?  •  Should I start a nonprofit?

In Generation Earn, Palmer answers these questions—and many more—in three parts. Part one centers on the self, covering professional goals, personal spending, debt management, and investing. Part two focuses on creating a home, including renting, mortgages, marriage, and saving for baby. Part three addresses the world at large, including green spending, sustainable donating, and supporting nonprofits. Add it all up and you have a plan for every major decision you'll have to make to create a successful life.
About the Author
Kimberly Palmer, senior editor and personal finance columnist for "US News & World Report," writes the magazine column and daily blog, Alpha Consumer. She has appeared on NBC's "Today" show, CNBC, and CNN, and written for the "Washington Post" and the "Wall Street Journal." She and her husband just welcomed their first baby and bought a townhouse in the Washington, DC, area.
Praise For Generation Earn: The Young Professional's Guide to Spending, Investing, and Giving Back…
"Palmer expands lessons from her own experience into something truly helpful for a wider audience. Generation Earn reads like a light-hearted yet sincere letter from a slightly older and wiser friend. ...a thoughtful and incredibly useful graduation or birthday gift."
—Better Investing, 1/1/11

"it takes you on [a] journey toward financial freedom, and offers helpful tips that you can actually put into practice."
—Allbusiness.com, Personal Finance Corner, 10/28/10

"Generation Earn offers real, applicable career and money advice."
—Mediabistro blog, FishbowlDC, 10/20/10

"Kimberly Palmer, author of the new "Generation Earn: The Young Professional's Guide to Spending, Investing and Giving Back" (Ten Speed Press, October 2010) speaks of and for the next generation. Palmer writes the popular "Alpha Consumer" column for U.S. News and World Report and she's mad! She's tired of today's young professionals being referred to as "Generation Debt." Palmer points out that Generations X and Y hold more advanced degrees than any prior generation, giving them serious earning potential. ...What stands out about "Generation Earn" is that Palmer goes beyond the desperate "me, me, me" of most personal finance books. Of course, she advises young professionals on how to get their financial houses in order. That's obligatory. And she covers those fundamentals with a crisp, conversational style that makes it sink in. But then she goes beyond that and advises her generation on how to fulfill their dreams of making a difference. It's a lot easier to change the world if you have something more in your arsenal than just sweat and tears. Palmer advises on green spending, wise giving and what she calls "Nonprofit Dreamin.' Generations X and Y are often maligned, but nobody can deny that these young people often think beyond themselves. "Generation Earn" can help them put some money and muscle behind their good intentions."
—Elisabeth Leamy, Good Morning America, Consumer Correspondent, 10/18/10

"Generation Earn is aimed at young professionals, who are increasingly interested in spending smarter, investing and giving back. But the book is also excellent in its scope and even mentions ways to reduce one's carbon footprint, such as calculating one's footprint and offsetting in support of innovative clean energy projects. As the dust of the recession is finally settling, you might be wondering where do we go from here? Generation Earn provides a compass and reveals paths for a better future."
—Carbonfund.org blog, 10/12/10

"This is a great book for a thoughtful college graduate. In fact, without knowing anything more than that about a graduate, this would be my first pick as a gift for graduation (perhaps coupled with Your Money or Your Life). As with many such books, the subtitle should make it clear whether this book will have any value for you personally. Are you a young professional? If the answer is yes, this book is probably worth a look."
—The Simple Dollar blog, 10/10/10

"If you're looking for a book that talks to your life, your money, right now, this is it! It's an essential guide for a rapidly changing world."
—Carmen Wong Ulrich, personal finance expert for The Dr. Oz Show and author of The Real Cost of Living

"Kimberly Palmer has crafted a clear-eyed, engaging book that goes far beyond finances and careers, and gives us a roadmap for how best to conduct our lives. As my three daughters enter their twenties, this is one of the most valuable guidebooks I could give them."
—Jeff Zaslow, coauthor of The Last Lecture and columnist, Wall Street Journal

"Generation Earn shows us how to pursue our financial goals without compromising our values. The financial world—and our place in it—is changing, but Palmer's advice will help us move ahead."
—Farnoosh Torabi, money coach on Bank of Mom and Dad and author of Psych Yourself Rich
Advertisement