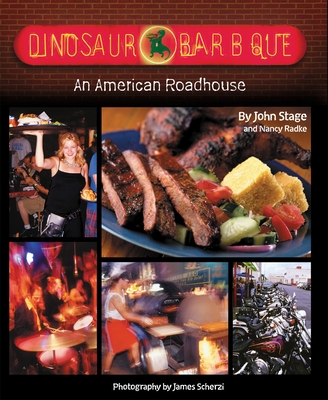 Dinosaur Bar-B-Que: An American Roadhouse (Hardcover)
An American Roadhouse
Ten Speed Press, 9781580082655, 184pp.
Publication Date: May 1, 2001
Description
Where can you show up for world-class barbecue, stick around for the blues, and shut the place down philosophizing with some truly gritty characters? At Dinosaur Bar-B-Que, of course--the renowned Syracuse-based honky-tonk rib joint just hankering to share its BBQ excellence with folks outside the state. In DINOSAUR BAR-B-QUE: AN AMERICAN ROADHOUSE you'll find the secrets to their succulent pit-smoked specialties in recipes you can fire up in your own backyard. Join Spiceman John Stage on a journey into the world of low and slow barbecue and fast and furious grillin'. Along the way, you'll soak up the Dino vibe as John shows you how to rev up traditional barbecue sauce to create such dishes as World Famous Dinosaur Ribs, Black & Blue Pan-Seared Beef Tenderloins, or Drunken Spicy Shameless Shrimp with Brazen Cocktail Sauce.- Full-color photography struts the eclectic decor of this honky-tonk rib joint (world's best bathroom graffiti and tattoo art included), and brings you up close and personal with some of its most colorful denizens.Awards2002 National Barbecue Association Award WinnerReviews-There's good eatin' here. . .we're making the Sweet Potato-Crusted Mahi-Mahi tonight.- --Tulsa World-Top 25 Editor's Choice Picks for 2001- --Amazon.com-One last look at summer grilling cookbooks . . . John Stage's DINOSAUR BAR-B-QUE: AN AMERICAN ROADHOUSE captures the slow-cooked-barbecue smell that hits you two blocks away from his 'genuine honky-tonk rib joint' in Syracuse, New York. . . . No matter the season, this cookbook (with more than 100 recipes) will quickly become a dog-eared, sauce-stained favorite.- --Amazon.com-I come from a place where barbecue is not food; it is a way of life. It is a philosophy of human nature. I have rarely had any as good as this.- --President Clinton on Dinosaur Bar-B-Que (September 1, 2000)-Though I learned to cook under the watchful eyes of several grandmothers in the apartment building where I lived in Rome, Italy, I now can smoke a mean pork butt thanks to John Stage.- --Nancy Radke-Without a doubt, DINOSAUR BAR-B-QUE will quickly become a dog-eared favorite on your kitchen bookshelf.- --Amazon.com-So, what made this book take off faster than a Hog flying down Interstate 5? Get your copy and find out why everyone is snapping up this unique instruction manual.- --Santa Cruz Sentinel-Real barbecue recipes for serious eaters.- --Food Network-Handsome yet funky . . . it's also a fun read.- --Buffalo News-Awesome ---Arlington Advocate-It looks like some folks are having a darn good time there.- --Charleston Post & Courier- A] kicky book with attitude . . . the jived up flavors and combinations in this book are barbecue heaven - --Scott Fine's Great Grilling Recipes (formerly On The Grill)
About the Author
NANCY RADKE learned how to cook under the watchful eyes of several grandmothers in Rome, Italy. She now lives in Syracuse, New York. In 1983, JOHN STAGE and his partner sawed a 55-gallon drum in half and hit the road, slinging BBQ at biker swap meets, fairs, and festivals. He opened the Dinosaur Bar-B-Que in Syracuse, New York, in 1988, followed by additional outposts in Rochester and New York City. He lives in New York City.
Advertisement