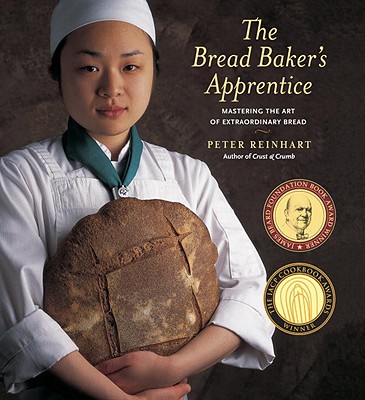 The Bread Baker's Apprentice (Hardcover)
Mastering the Art of Extraordinary Bread
Ten Speed Press, 9781580082686, 320pp.
Publication Date: November 14, 2001
* Individual store prices may vary.
Description
Co-founder of the legendary Brother Juniper's Bakery, author of the landmark books Brother Juniper's Bread Book and Crust & Crumb, and distinguished instructor at the world's largest culinary academy, Peter Reinhart has been a leader in America's artisanal bread movement for over fifteen years. Never one to be content with yesterday's baking triumph, however, Peter continues to refine his recipes and techniques in his never-ending quest for extraordinary bread.

In The Bread Baker's Apprentice, Peter shares his latest bread breakthroughs, arising from his study in several of France's famed boulangeries and the always-enlightening time spent in the culinary academy kitchen with his students. Peer over Peter's shoulder as he learns from Paris's most esteemed bakers, like Lionel Poilâne and Phillippe Gosselin, whose pain à l'ancienne has revolutionized the art of baguette making. Then stand alongside his students in the kitchen as Peter teaches the classic twelve stages of building bread, his clear instructions accompanied by over 100 step-by-step photographs.

You'll put newfound knowledge into practice with 50 new master formulas for such classic breads as rustic ciabatta, hearty pain de campagne, old-school New York bagels, and the book's Holy Grail–Peter's version of the famed pain à l'ancienne. En route, Peter distills hard science, advanced techniques, and food history into a remarkably accessible and engaging resource that is as rich and multitextured as
the loaves you'll turn out. This is original food writing at its most captivating, teaching at its most inspired and inspiring–and the rewards are some of the best breads under the sun.

— Food52, Most Anticipated Cookbooks
— Every Day with Rachael Ray, Round-Up
About the Author
PETER REINHART is a full-time baking instructor at Johnson & Wales University in Providence, Rhode Island. He is the author of the acclaimed Brother Juniper's Bread Book: Slow Rise as Method and Metaphor, Sacramental Magic in a Small-Town Café, Bread Upon the Waters, Crust & Crumb, the winner of the James Beard/KitchenAid Cookbook Award in 1998, and Peter Reinhart's Whole Grain Breads, the winner of the James Beard Cookbook Award in 2008. Peter is a regular commentator on food and culture for public radio's One Union Station.
Praise For The Bread Baker's Apprentice: Mastering the Art of Extraordinary Bread…
"Peter has combined the knowledge, passion, and expertise of a professional baker with the clear persuasive language of a born teacher. I predict immense well-deserved success for this extraordinary book."
–Carol Field, author of The Italian Baker

"As we continue our bread-making journey into the 21st century, Peter Reinhart's The Bread Baker's Apprentice should emerge as the definitive text on the subject. There is simply no other work where a student, and for that matter, many seasoned bakers, can turn to understand how the magic of great bread baking works."
–Charles Van Over, author of The Best Bread Ever

"Peter has yet again woven a fine tale about great bread, and his passion abounds. In The Bread Baker's Apprentice, he delivers a tool box of information and insight–tools that empower us to roll up our sleeves and keep those ovens full!"
–Peter Franklin, Chairman of the Board, The Bread Bakers Guild of America

"This remarkable book is written and designed to bridge the information gap between professional artisan baking and simpler home baking. The tricks, the tips, the checklists, the math, the lingo, the path to perfect fermentation, are all here at my fingertips."
–Beth Hensperger, author of Bread Made Easy

"If you are a serious home baker and wish to raise your level of baking several notches, then apprentice yourself to master bread baker Peter Reinhart in his new cookbook, The Bread Baker's Apprentice. He instructs with gusto in this delightful and comprehensive volume."
–Bernard Clayton, author of The Breads of France

"Just as bread nourishes the body, The Bread Baker's Apprentice nourishes the baker's soul. Peter Reinhart' s explicit recipes and detailed instructions are so well written that he takes the mystery out of mastery, giving you the sense that he is standing right beside you, coaching you to success."
–Flo Braker, author of The Simple Art of Perfect Baking

"Both novice and experienced bakers have cause to celebrate Peter Reinhart's The Bread Baker's Apprentice. Peter's years of hands-on experience combined with his excellent teaching skills make this book the closest thing to having a master at your side as you bake."
–Lora Brody, author of Basic Baking
or
Not Currently Available for Direct Purchase