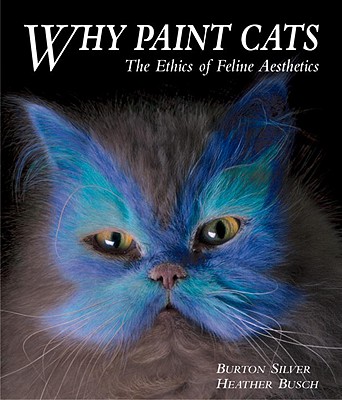 Why Paint Cats: The Ethics of Feline Aesthetics (Paperback)
The Ethics of Feline Aesthetics
Ten Speed Press, 9781580082716, 96pp.
Publication Date: August 8, 2002
* Individual store prices may vary.
or
Not Currently Available for Direct Purchase
Description
Why did a woman in California pay an artist $5,000 to paint her cat to look like a pig? What made a New York stockbroker spend even more than that to have the image of Charlie Chaplin painted on his cat''s posterior? WHY PAINT CATS reveals that, far from being an amusement for the idle rich, this seemingly aberrant behavior is part of a new art movement that claims to promote a better understanding of the cats in our lives. Following the international success of their previous collaboration of feline aesthetics, WHY CATS PAINT, Burton Silver and Heather Busch turn their scholarly attention to the cat as canvas. The authors detail all the latest trends in the movement, including the highly controversial Retromingent Expressionism, drawing conclusions that will provoke and amuse, startle, and enlighten. Exhaustively researched and lavishly illustrated, this insightful and engaging book raises important ethical questions and explores the rights of pet owners to reinvent their cats in the name of art.
About the Author
BURTON SILVER is a cartoonist, inventor, and author of more than a dozen books, including the best-selling WHY CATS PAINT. Silver studied psychology and sociology at Victoria University. He lives in Wellington, New Zealand.

HEATHER BUSCH has been a visual artist for nearly 30 years and is drawn to perceptions and paradigms that expand and entertain her mind. She has a fine arts degree in sculpture and has become internationally recognized for her paintings and photography. She lives in New Zealand.
Praise For Why Paint Cats: The Ethics of Feline Aesthetics…
You'd think a person would have better things to do with $5,000 than to have her cat painted to look like a pig. . . . I personally appreciate feline beauty without a brush, but for the person who has every art book, my bet is they don't have one showcasing cats as canvases. Atlanta Journal-Constitution I would not paint a cat if someone paid me to do so. I would not paint a cat if Picasso rose from the grave and taught me how. If a cat represented the last piece of canvas on earth, I still would not paint that cat. I just know better. Sadly some people do not. . . . I'm pretty sure it's not a hoax. Jackson Clarion-LedgerSuggests itself both as art and an art. Who am I to kibble? San Francisco ChroniclePainted cats transform into art with a purrpuss. Las Vegas Review JournalBy the time you finish flipping through WHY PAINT CATS, the latest art-book collaboration by writer Burton Silver and photographer Heather Busch, you'll have more questions than answers. Seeing Charlie Chaplin's face painted on a cats rump has that effect.Heather McKinnon, Seattle TimesIt felt wrong. I was appalled. Then I began to flip through the book, and was knocked back on my heels by the beauty of (some) of the works of art. A question I'd never considered nestled in my brain:
Why not paint cats?San Diego Union Tribune Kitty Porn . . . What a little tramp! . . . Always wanted to paint your cat like an alien but never had the balls to try?Maxim magazine
Advertisement