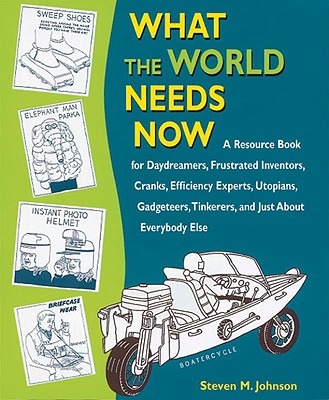 What the World Needs Now: A Resource Book for Daydreamers, Frustrated Inventors, Cranks, Efficiency Experts, Utopians, Gadgeteer (Paperback)
A Resource Book for Daydreamers, Frustrated Inventors, Cranks, Efficiency Experts, Utopians, Gadgeteer
Ten Speed Press, 9781580083096, 160pp.
Publication Date: March 22, 2001
* Individual store prices may vary.
or
Not Currently Available for Direct Purchase
Description
Ever wanted a chair that converts into a rowing machine? Sunglasses that serve as a wallet? A car with a sundeck so you can work on your tan on those long road trips? Well, inventor and illustrator Steven Johnson has designed these marvels and many, many more, spurred on by a truly insatiable imagination. His wacky, wonderful concepts could very well change the world-that is, if someone was ever bold enough to build them. From clothing to dining technology, home furnishings to appliances, and gardening gadgets to survival gear, WHAT THE WORLD NEEDS NOW is a sourcebook of revolutionary designs that prove how far our techno-culture has yet to go. • Includes a three-step plan for inventing useful and useless things.
Praise For What the World Needs Now: A Resource Book for Daydreamers, Frustrated Inventors, Cranks, Efficiency Experts, Utopians, Gadgeteer…
Exceptional and valuable beyond their initial reading. . . . Belongs in every home's smallest room. His sketches of fanciful inventions and improvements to existing ones are hilarious and brilliant. . . .[A] hilarious compendium of suggestions for would-be inventors.—Miami Herald"One of the funniest and most ingenious titles in the field. There is just no limit to the range of practical weirdness covered by the drawings of Steven M. Johnson . . . a collection of proposed inventions that will leave you shaking your head in wonder at their artistry and application." —Patricia Holt, San Francisco Chronicle
Advertisement