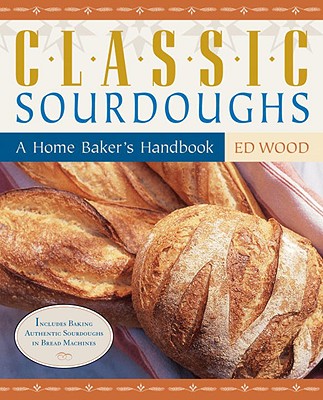 Classic Sourdoughs: A Home Baker's Handbook (Paperback)
A Home Baker's Handbook
Ten Speed Press, 9781580083447, 224pp.
Publication Date: November 30, 2001
* Individual store prices may vary.
or
Not Currently Available for Direct Purchase
Description
Bread lovers and baking enthusiasts who covet the mouthwatering aroma and tantalizing taste of the most esteemed of breads, sourdough, will delight in CLASSIC SOURDOUGHS, an updated version of our essential baker's companion, WORLD SOURDOUGHS FROM ANTIQUITY. Author and sourdough aficionado Ed Wood describes the basics of preparing a sourdough culture, and then moves on to building, shaping, and baking these storied loaves from the ground up. En route, Wood mixes hard science with a profound respect for baking traditions, emphasizing the importance of ingredient selection and paying homage to the baking techniques practiced by the ancient Egyptians. Baking, history, chemistry, cultural anthropology-this is truly a sourdough magnum opus, an engaging, authoritative volume that, most importantly, will show you how to prepare these scrumptious breads in your own kitchen.• Includes over 90 delicious recipes and an up-to-date chapter on baking authentic sourdoughs in bread machines.• New information on Dr. Wood's latest discovery-a culture considered to be the authentic San Francisco sourdough-that will allow you to re-create the world-famous taste of San Francisco bread in your own home.
About the Author
ED WOOD is a pathologist, biologist, wild yeast expert, and master baker. In 1993, he was invited to participate in a National Geographic project to reproduce the first leavened breads at an excavated baking site in Egypt. Through his company, Sourdoughs International, he sells dried authentic sourdough cultures he has collected from around the world. He lives and bakes in Cascade, Idaho.
Praise For Classic Sourdoughs: A Home Baker's Handbook…
"Brings the tradition of sourdough cooking into focus. It is easy, interesting reading and doesn't make sourdough baking seem complicated."—Sharon Maasdam, The Oregonian"A Match Made With Leaven: A True Story of Loafing, Lust, and Loss" —headline of review with recipe tested by The Palm Beach Post
Advertisement