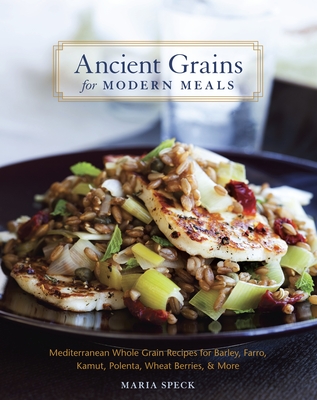 Ancient Grains for Modern Meals
Mediterranean Whole Grain Recipes for Barley, Farro, Kamut, Polenta, Wheat Berries & More [A Cookbook]
Hardcover

* Individual store prices may vary.
Description
In this inspired and highly personal book, Maria Speck draws on food traditions from across the Mediterranean and northern Europe to reveal how versatile, satisfying, flavorful, and sophisticated whole grains can be.  

Food writer Maria Speck's passion for propelling Old World staples such as farro, barley, polenta, and wheat berries to the forefront of new American cooking is beautifully presented in Ancient Grains for Modern Meals. Rustic but elegant dishes--Creamy Farro with Honey-Roasted Grapes, Barley Salad with Figs and Tarragon-Lemon Dressing, Lamb Stew with Wheat Berries in Red Wine Sauce, and Purple Rice Pudding with Rose Water Dates--are sure to please discerning palates and become favorites in any whole grain repertoire.
 
Food lovers and health-conscious home chefs alike learn how to integrate whole grains into their busy lives, from quick-cooking quinoa and buckwheat to the slower varieties such as spelt and Kamut. The stunning flavors and lively textures of whole grains are enhanced with natural ingredients such as butter, cream, and prosciutto--in moderation--to create lush Mediterranean-inspired recipes. Maria's approachable style and generous spirit make this collection of time-honored, updated classics a treasury for today's cooks.
Praise For Ancient Grains for Modern Meals: Mediterranean Whole Grain Recipes for Barley, Farro, Kamut, Polenta, Wheat Berries & More [A Cookbook]…
Winner, Julia Child Award, and Health and Special Diet Award, IACP 2012
Washington Post Top 10 Cookbook of 2011
New York Times Notable Cookbook of 2011
New York Times 2011 Best Summer Cookbook
Cooking Light, Best 100 Cookbooks of the Past 25 Years
Gourmand Awards, 2011 Winner, USA Mediterranean Category

 
"It's a wonderful book!"
—Ellie Krieger, Food Network, 2011
 
"Maria has an infectious passion that is contagious beyond measure."
—Suvir Saran, Top Chef Masters contestant, Season 3, 6/9/11

""Whole grains have cast a spell on me" are the first words in this excellent cookbook from Speck. Read on and they will cast a spell on you, and, like me, you'll look forward to her next book."
—Today's Diet & Nutrition Magazine, Editor's Picks, 2011

"Grain guru Maria Speck's new cookbook Ancient Grains for Modern Meals has shown me the proverbial light. . . . Pick up a copy of the book, and you'll find ideas for breakfasts, dinners, desserts, and breads from Speck's rich heritage alongside beautifully vibrant photography of select dishes. The breadth and variety present in the collection also reinforce the idea that with the recipes come entire culinary traditions condensed, refined, and recorded for your own gastronomical pleasure."
—The Epi-Log, Epicurious.com, 8/4/11

"A sensuous love letter to the delicious possibilities of whole grains. . . . Maria brings a curiosity and a puckish sense of exuberance to this glamorous exploration of whole grains."
—TheKitchn.com, 6/29/11

"Her new cookbook … is a beautiful collection of recipes inspired by her upbringing, and by the Mediterranean whole grain foods she has enjoyed throughout her life. …Hello, Dark Chocolate Muesli. Hi, Saffron Waffles with Orange Cream. Where've you been my whole life?"
—Cheryl Sternman-Rule, 5 Second Rule, 6/27/11

"...there are so many gluten-free grain recipes… (amaranth, buckwheat, corn, millet, oats, quinoa, rice, and wild rice) that I didn't need to feel deprived. Plus, I figured I could easily substitute any of the gluten containing recipes with gluten-free ones as well."
—EA Stewart, The Spicy RD, 6/7/11

"Maria Speck has given us a great gift; …Going from "I know I should eat more of these" to "That looks great - more, please?" is no small feat with something like grains." 
—Jacqueline Church, Leather District Gourmet, 6/6/11 

"So if you're looking to incorporate more whole grains into your diet (and feel and look better too), then make room on your bookshelf for Ancient Grains for Modern Meals."
—Susan Russo, Food Blogga, 5/25/11

"...I had a hard time deciding which [recipes] to try. I mean, with names like Orange-Scented Scones with Dark Chocolate, Saffron Waffles with Orange Cream, and Pine Nut Bread with Fennel and Sun- Dried Tomatoes, what's not to love! …And, don't even get me started on the desserts. My mouth has been watering for the Greek Walnut-Barley Cake or the Dark Chocolate Cake with Amaretto. Yum!"
—Cathy Warner, Bread Experience,  5/22/11

"Once in a while a cookbook will come across that will teach you something new. Something, you haven't seen anywhere else and Ancient Grains for Modern Meals does it without much preaching..." 
—Shulie Madnick, Food Wanderings, 5/13/11

"This is a wonderfully written book that would make great reading, great eating and also make the perfect gift for someone interested in trying recipes that take us back to our roots." 
—Pastry chef Caterina Borg, Good Food Gourmet, 5/12/11

"It's full of wholesome and delicious recipes using whole grains and quick-cooking grains with fresh Mediterranean flavors. It will help you experiment with ingredients such as spelt, quinoa, farro and barley as well as polenta, buckwheat and millet."
—Jennifer Bartoli, Chocolate Shavings, 5/9/11

"If you've turned up your nose at the likes of barley, wheat berries or the unappetizingly-named spelt because of their reputation for being the stuff of hippies or health-nuts, you've been missing out on an entire category of good eating. …Greek-born food journalist Maria Speck…shines a light on these misunderstood ingredients…"
—The Wall Street Journal, Bits & Bites, 5/7/11

"Her recipes will surely broaden your horizons as much as they tempt your taste buds." 
—Amy Sherman, Cooking with Amy, 5/5/11

"Who wouldn't want to start the day with Walnut Spice Breakfast Cake? That passion comes through in every recipe and tip. I suspect my now-pristine copy of Ancient Grains will soon be dog-eared and spattered with kitchen stains – sure signs of a well-loved cookbook."
—Alison Ashton, Nourish Network, 5/5/11

"[Maria] recalls her Greek grandmother hanging phyllo dough to dry on the back of the living room furniture. Her culinary style reflects a Greek enthusiasm for fresh herbs and a German precision…"
—Aaron Kagan, The Boston Globe, 5/4/11

"[Maria] considers herself "lucky" for never having been introduced to whole grains as a health food via food pyramids, celebrities and newspaper Health sections. She learned to love them simply as part of a really good home cooked meal growing up in Greece and Germany. Lucky indeed."
—Jen Garbee, LA Weekly's Squid Ink blog, 5/3/11

"This is a cookbook food lovers will swoon over. …This book has my over the top, total recommendation… ..if all the recipes are as deliriously good as this one was, then I'm going to work through each recipe in this wonderful new cookbook!
—Hillary Davis, The Best Cookbooks List, 4/23/11

"The book is beautifully written, and a real pleasure to spend time with. Speck manages to soft-sell cooking with grains in a way that has me wanting to completely transform my diet. She should consider starting a cult, maybe she already has—the Cult of Whole Grains. Sign me up."
—Tim Mazurek, Lottie + Doof, 4/21/11

"In this inspirational book, author and cook Maria Speck draws from her Greek mother's cooking and the foods of her European upbringing to offer a sumptuous and alluring selection of recipes that would appeal to any cook." 
—Fresh Picks by Nina Simonds, The Daily Beast, 4/20/11

"We are, happily, in the midst of a whole grain renaissance. But we also know that people who are still awakening to whole grains need great recipes, derived from tradition yet re-imagined for the contemporary palate. Thanks to Maria Speck we now have such a book."
—PETER REINHART, author of Whole Grain Breads and Artisan Breads Every Day
 
"Maria Speck has brought her enormously talented culinary skill and multicultural background to these raw ingredients, transforming them into appealing and do-able recipes that will entice you to the kitchen.  If you want to include more whole grains in your diet, or you're not familiar with farro, barley, quinoa, and the rest—let alone how to cook them—this is the perfect book."
—CLIFFORD A. WRIGHT, author of the James Beard Cookbook of the Year A Mediterranean Feast
 
"Maria Speck really knows her whole grains! She does a terrific job of introducing the reader to this fascinating food group, providing excellent recipes (many Mediterranean-inspired) as well as personal stories drawn from her upbringing that will reward the home cook."
—PAULA WOLFERT, author of Mediterranean Clay Pot Cooking, Mediterranean Grains and Greens, and The Slow Mediterranean Kitchen
 
"Maria's beautiful book made me hungry at first read. It will not only inspire you to stock your kitchen with a varied assortment of whole grains to simmer, steam, boil, and soak, but will give you an entirely new appreciation of their long and varied history and their infinitely delicious flavors and textures. I want to cook everything Maria writes about."
—LUISA WEISS, creator of The Wednesday Chef
Ten Speed Press, 9781580083546, 240pp.
Publication Date: April 26, 2011
About the Author
MARIA SPECK grew up in Greece and Germany before moving to the United States as a young adult. She is a writer and journalist, and has contributed to Gourmet, Saveur, and Gastronomica, as well as Marie Claire and Elle. Her popular cooking classes in Cambridge, Massachusetts, focus on the flavors and cooking styles of the Mediterranean and on creating innovative and delicious meals with whole grains.
or
Not Currently Available for Direct Purchase