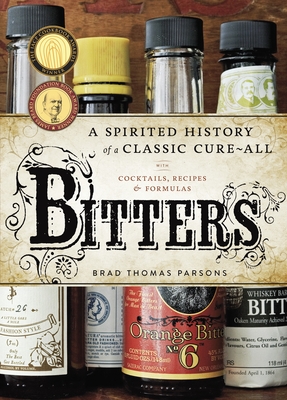 Bitters
A Spirited History of a Classic Cure-All, with Cocktails, Recipes, and Formulas
Hardcover

* Individual store prices may vary.
Description
Gone are the days when a lonely bottle of Angostura bitters held court behind the bar. A cocktail renaissance has swept across the country, inspiring in bartenders and their thirsty patrons a new fascination with the ingredients, techniques, and traditions that make the American cocktail so special. And few ingredients have as rich a history or serve as fundamental a role in our beverage heritage as bitters.
 
Author and bitters enthusiast Brad Thomas Parsons traces the history of the world's most storied elixir, from its earliest "snake oil" days to its near evaporation after Prohibition to its ascension as a beloved (and at times obsessed-over) ingredient on the contemporary bar scene. Parsons writes from the front lines of the bitters boom, where he has access to the best and boldest new brands and flavors, the most innovative artisanal producers, and insider knowledge of the bitters-making process.
 
Whether you're a professional looking to take your game to the next level or just a DIY-type interested in homemade potables, Bitters has a dozen recipes for customized blends--ranging from Apple to Coffee-Pecan to Root Beer bitters--as well as tips on sourcing ingredients and step-by-step instructions fit for amateur and seasoned food crafters alike.
 
Also featured are more than seventy cocktail recipes that showcase bitters' diversity and versatility: classics like the Manhattan (if you ever get one without bitters, send it back), old-guard favorites like the Martinez, contemporary drinks from Parsons's own repertoire like the Shady Lane, plus one-of-a-kind libations from the country's most pioneering bartenders. Last but not least, there is a full chapter on cooking with bitters, with a dozen recipes for sweet and savory bitters-infused dishes.
 
Part recipe book, part project guide, part barman's manifesto, Bitters is a celebration of good cocktails made well, and of the once-forgotten but blessedly rediscovered virtues of bitters.
Praise For Bitters: A Spirited History of a Classic Cure-All, with Cocktails, Recipes, and Formulas…
Winner, James Beard Awards 2012- Beverage Category 
Winner, IACP Awards 2012- Wine, Beer or Spirits Category

"Finally, here is an entire book devoted to the history, culture, and uses of the herbal elixir." 
—BonAppetit.com "Best Cookbooks of 2011"

"Gorgeous and fascinating… highly recommend for those interested in spirits."
—Michael Ruhlman, 12/2/11
 
"Engaging…gorgeous….The book practically begs for a dark leather chair, a roaring fireplace, and a Manhattan…a nearly ideal gift."
—Serious Drinks, 12/1/11
 
"Stylish, engaging, geek-attack-inducing…The beautiful art in Bitters invites readers to touch, open and browse, and the prose is as intelligent as the photography is beautiful. Whether it's found on the coffee table, in the kitchen or behind the bar, this book incites readers to explore, create and share."
—Shelf Awareness, 11/22/11

"This is graduate-level stuff and would be a welcome addition to any cocktail geek's library." 
—Wall Street Journal, 11/19/11

"Brad Thomas Parsons tracks the bitters boom in his new book Bitters, and manages to elevate herbs to an art form." 
—Newsweek, 11/14/11

"Fascinating…Parsons offer[s] techniques for making bitters at home as well as a great collection of unique cocktail recipes." 
—The Washington Post, 11/8/11

"The literary apotheosis of the bizarre and undeniably beautiful artisanal and historic cocktail trend."
—The Atlantic, 11/4/11

"Cocktails are very much in again and bitters are the belle of the ball. We are totally ready to geek out with this one."
—The Huffington Post, 8/25/11

"Brad has not only written the definitive volume on bitters, but also proven himself a bartender of the highest order: an inspired mixologist and a gifted storyteller whose generous, engaging voice makes you want to order round after round." 
—Matt Lee and Ted Lee, authors of The Lee Bros. Simple Fresh Southern

"Bitters turns a potentially esoteric topic into a breezy read, packed with recipes for the bar and kitchen that we will certainly be adding to our repertoire. Brad's witty, generous storytelling and excellent historical research, paired with the handsome visuals, set this book apart." 
—Frank Castronovo and Frank Falcinelli, authors of The Frankies Spuntino Kitchen Companion & Cooking Manual and chef/owners of Frankies Spuntino and Prime Meats 

"I love bitters! Brad's book is a must-have for all booze nerds. The history is fascinating and the recipes are awesome."
—David Chang, chef/owner of Momofuku 

"Thanks to Brad Thomas Parsons's inquisitive detective work, readers can discover how cocktail bitters rose from the ashes of Prohibition to become an indispensable ingredient for the country's top mixologists." 
—Jim Meehan, managing partner at PDT and author of The PDT Cocktail Book

"Similar to the mysterious and storied elixir it documents, Bitters is bright, refreshing, complex, and essential. It will also cure your gout. Any fan of cocktails will desire it, but so will any fan of fascinating history, good writing, or gentian root."  
—John Hodgman, author of That Is All
Ten Speed Press, 9781580083591, 240pp.
Publication Date: November 1, 2011
About the Author
Brad Thomas Parsons is a writer, blogger, and food and cocktail enthusiast. A former senior editor at Amazon.com, he received an MFA in writing from Columbia University and has been a contributor to Serious Eats, Omnivoracious, Al Dente, and Seattle Met, among others. He lives in Brooklyn, New York. Visit btparsons.com.