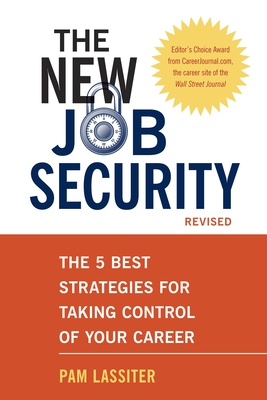 The New Job Security: The 5 Best Strategies for Taking Control of Your Career (Paperback)
The 5 Best Strategies for Taking Control of Your Career
Ten Speed Press, 9781580083775, 224pp.
Publication Date: September 7, 2010
Description
Take Control of Your Career
Job security used to mean counting on a company to support you until retirement. Well, the rules have changed--companies downsize, jobs are outsourced, and pensions are eliminated as fast as the fluctuating economy. There's good news, however--the
new
job security is alive and well and centered in you, not in a company. In this newly revised edition of
The New Job Security
, executive career-management consultant Pam Lassiter presents the five best strategies for achieving work security and success, from building a supportive network that returns your calls to creating new jobs rather than wasting time on advertised openings. Thoroughly updated with the latest tactics, technology, and trends, plus advice from nationwide business leaders and career experts, this is the career book for the new economy. The New Job Security will help you to:
- Uncover interesting alternative jobs
- Generate multiple income streams
- Shape your job so that it reflects your values and goals
- Move successfully within your company
- Plan for career transitions so that they're under your control Filled with practical exercises, real-life examples, online resources, and a refreshingly no-nonsense approach,
The New Job Security
is a strategic plan to gain control of your career and never worry about job stability again.
About the Author
Pam Lassiter is principal of Lassiter Consulting, a firm that provides career management services to companies and individuals worldwide. As a consultant in career management for more than thirty years, Lassiter works with companies and mid-career professionals that are managing career transitions. She designs programs, seminars, and coaching sessions for companies that are outplacing or retaining key employees. Her internal career development work enables professionals to grow within their current companies, improving corporate productivity and profitability. Her work with companies and individuals that are facing transition focuses on directing searches of senior-level executives toward timely, satisfying conclusions, whether it's the next job or retirement with flexible work. Lassiter makes appearances on regional and national television and radio, and as a keynote speaker for professional groups and national conferences. She has received multiple awards and recognition from professional associations. Her articles on career management appear in human resource and business publications including Fast Company, Fortune, Financial Times, Bloomberg radio, Financial News Network and CFO. With an undergraduate degree from the University of Texas in English and Spanish, a master's degree from Boston University in psychological counseling, and graduate coursework in career development and business management, Pam lives in Boston, Massachusetts.
Praise For The New Job Security: The 5 Best Strategies for Taking Control of Your Career…
"When it comes to the hard work of finding great work, Pam Lassiter is the consummate pro. She has the experience, the common sense, and the proven track record. My advice: Take her advice." 
--Alan M. Webber, Founding Editor, Fast Company
 
"A must-read for those seeking growth and satisfaction in their careers." 
--Dr. Myra Hart, Professor of Management Practice, Harvard Business School
 
"Pam Lassiter has taken on today's complex career management challenges and provided the reader with tools that work in the real world." 
--David Opton, Founder & CEO, ExecuNet

"Lassiter's strategies for growing within your current job are completely on target. She shows that you can't wait for your company to take care of you."
--Ann Anderson, Chief Human Resources Officer, Blue Cross Blue Shield of Massachusetts
Advertisement