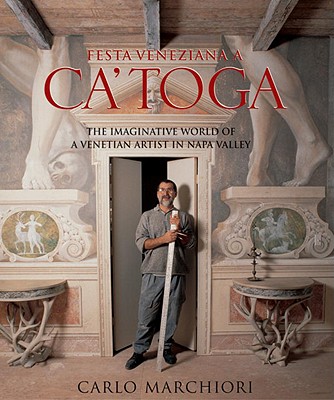 Festa Veneziana a Ca'Toga (Hardcover)
An Imaginative World of a Venetian Artist in Napa Valley
Ten Speed Press, 9781580084024, 190pp.
Publication Date: June 27, 2002
* Individual store prices may vary.
Description
Please note: there are two different book jackets with the exact same interior content.In the serene Northern California town of Calistoga, a splendid villa is fronted by stately wrought-iron gates and a small sign reading "Carlo Marchiori, Maestro d'-?Arte." Ca'-?toga, as the Palladian-style villa is named, is the home and workshop of Carlo Marchiori, a world-renowned Venice-born artist. In FESTA VENEZIANA A CA'-?TOGA, Marchiori serves as tour guide, leading us room by room through this live portfolio, providing deeply personal and mysterious explanations for the wonders that abound in his gallery-like residence. Sixteenth century-style frescoes hang in the main salon, hand-painted stone floors accent the library, and antler and bone sculptures embellish the Native American room. Roman ruins, Thai temples, a seashell-encrusted grotto, and an open-air theater sit in archaic splendor on this dreamscape-turned-landscape. A spontaneous and creative expression of his life and work, Ca'-?toga is Marchiori'-'s artistic utopia-a work in progress that is a brilliant spectacle to behold. Featuring a fantastic repertoire of ceiling murals, wall decorations, folding screens, painted furniture, ceramics, cast stone garden ornaments, and myriad objets d'art inspired by Greco-Pompeiian mythology, Baroque theater, Venetian carnival, and commedia dell'-?arte themes. Marchiori offers tours of Ca'-?toga on Saturday mornings from May to October. Tour tickets and art can be purchased at the Ca'-?toga Galleria D'-?Arte, located in Calistoga, California.
About the Author
CARLO MARCHIORI studied at the Instituto Pietro Selvatico in Padua, Italy, and worked in commercial art, film animation, and editorial illustration before mastering the large-scale trompe #&146;oeil murals for which he is internationally renowned. Fifteen years ago, Marchiori began constructing Ca#&146Toga, his Palladian-style combined villa and two-story workshop in Calistoga, California.
Praise For Festa Veneziana a Ca'Toga: An Imaginative World of a Venetian Artist in Napa Valley…
"Under silvery moonlight, the Doric temple in Carlo Marchiori's garden looks as if it were hewn from Carrara marble. Fluted columns pose heroically on a romantically crumbling foundation. Soaring above are elaborate friezes and fragments of traditional entablature. There's even a broken pediment. All that's missing is the oracle. Mr. Marchiori . . . offers up an instant classical education in his villa and garden. His five-acre domain, which he calls Ca'Toga, sits on the banks of the Napa River in the rocky northern reaches of the Napa Valley. Passers-by can glimpse the richly colored villa across a vineyard." -New York Times
or
Not Currently Available for Direct Purchase