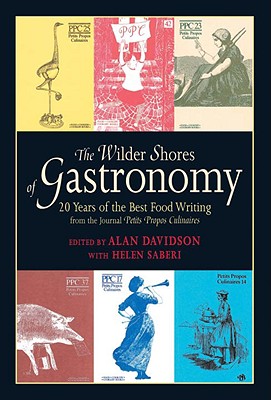 The Wilder Shores of Gastronomy: Twenty Years of the Best Food Writing from the Journal Petits Propos Culinaires (Hardcover)
Twenty Years of the Best Food Writing from the Journal Petits Propos Culinaires
Ten Speed Press, 9781580084178, 512pp.
Publication Date: November 18, 2002
* Individual store prices may vary.
or
Not Currently Available for Direct Purchase
Description
In 1979, a remarkable culinary congress took place at Richard Olney's kitchen table in London, where he was entertaining Alan and Jane Davidson. Stumped by an edict from his publishers at Time-Life, Olney was looking for an outlet to print a few recipes for later inclusion in his "Good Cook" series. The idea of a journal took shape, and with the help of Elizabeth David, a remarkable venture began. Sixty-seven issues later, Petits Propos Culinaires is still directing its critical eye at the obscurer corners of the food world. In addition to the formidable trio of Davidson, Olney, and David, such esteemed food writers as Jane Grigson, Claudia Roden, and Charles Perry became regular contributors, ensuring a spirited, erudite discourse with each issue. THE WILDER SHORES OF GASTRONOMY is the first-ever anthology of writings from this seminal publication. Hand-selected by Mr. Davidson, the anthology reflects the remarkable breadth of the journal. The arcane ("An Experiment in Bronze Age Cooking") rubs shoulders with the practical ("Photographers' Cheesecake"), exotic ("Among the Yoruba Mushroom-Eaters"), and highly entertaining ("The Great Norwegian Porridge Feud"). The result is a highly eclectic collection of extraordinary food writing.- Spanning 20 years and including work by many of the world's most influential food writers, WILDER SHORES is a concise, thoroughly enjoyable introduction to food criticism, a "Norton anthology of gastronomica."Reviews" A] true example of food writing . . . world-class material. . . . the best writing about what should be everybody's favorite subject." --Saveur"An eclectic feast for food nerds." --Kansas City Star "An always serious, sometimes dense, and often quixotic collection that illustrates the great variety of ways you can talk about food" --Epicurious.com" A] true example of food writing . . . world-class material. . . . the best writing about what should be everybody's favorite subject." --Saveur.
About the Author
ALAN DAVIDSON is one of the world'¬'s leading authorities on fish and fish cookery. In 1975, he retired from Britain's diplomatic service to pursue a fruitful career as a food historian and writer. Cofounder and editor of the prestigious food journal "Petits Propos Culinares, " Alan has authored many books, including the award-winning "Oxford Companion to Food" and NORTH ATLANTIC SEAFOOD, which was inducted into the James Beard Foundation Cookbook Hall of Fame in 2002. He lives with his wife, Jane, in London, England.
Advertisement