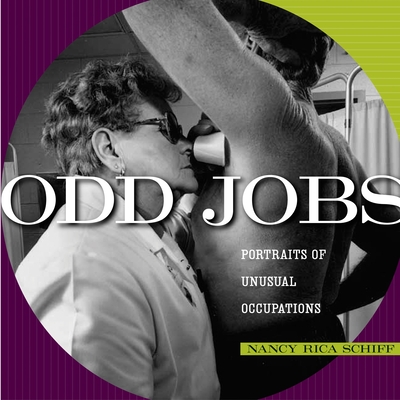 Odd Jobs (Hardcover)
Portraits of Unusual Occupations
Ten Speed Press, 9781580084574, 144pp.
Publication Date: October 28, 2002
* Individual store prices may vary.
Description
Who blows the bugle at the Kentucky Derby? Who dusts the dinosaur bones at the Smithsonian? Who sniffs dog breath for a living? Who measures the breasts of real models? ODD JOBS introduces you to the real people who perform these truly peculiar jobs. In 65 intimate portraits, photo essayist Nancy Rica Schiff captures the personalities and occupations of these oddball professionals, providing a short profile of each. A 20-year photography veteran, Schiff has spent the better half of that time discovering the behind-the-scenes people who do what others can't (or won't) do. No one can say that America isn't the home of the free, the brave, and the quirky, who will do almost anything to make an honest buck.• Profiles 65 of the most unique jobs in America.• Jobs include duck walker, coin polisher, doll doctor, and artificial inseminator.
About the Author
NANCY RICA SCHIFF is a published and exhibited photographer based in New York City. She has been photographing odd jobs for more than 15 years. Visit www.nancyricaschiff.com
Praise For Odd Jobs: Portraits of Unusual Occupations…
"The perfect coffee-table book . . . photographs will have party guests gabbing. . . . these portraits create an eccentric picture of the most creative of America's working class." — The Boston Phoenix"ODD JOBS is a captivating photo essay on the people who make America tick." —New York Post"Whatever you do for a living, it's got to be better than that [the job of the Diener] . . . a nifty book filled with striking portraits." —Honolulu AdvertiservA terrific job of capturing the workers and their sometimes surreal environment . . . the punfully bad text is contagious. . . . a smiley little book."—Entertainment Weekly"'How'd You Like to Smell Armpits For a Living' was the headline, and they called the book 'an entertaining description of wacky work assignments that make most folks' careers seem downright boring.'"—National Enquirer"You won't find these [excerpts] in the classifieds." —Reader's Digest
or
Not Currently Available for Direct Purchase