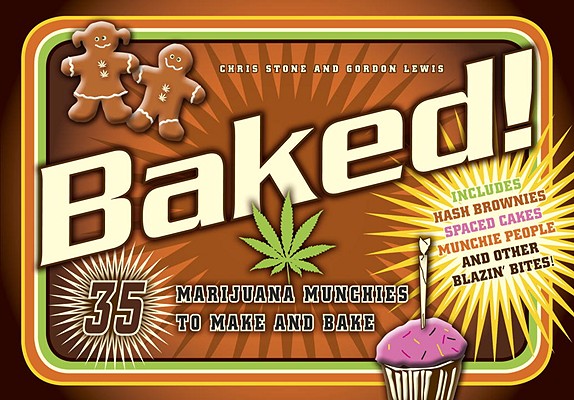 Baked!: 35 Marijuana Munchies to Make and Bake (Paperback)
35 Marijuana Munchies to Make and Bake
Ten Speed Press, 9781580084772, 128pp.
Publication Date: October 26, 2010
* Individual store prices may vary.
or
Not Currently Available for Direct Purchase
Description
For potheads who'd rather eat their weed than smoke it, this tasty bakin' bible serves up thirty-five easy-to-make, craving-busting recipes packed with every stoner's favorite ingredient. Guaranteed to produce cannabilicious results every time, all of the recipes in Baked have been written (and thoroughly tested) by an established food writer and "herb" specialist. From classics like Hash Brownies and Alice B. Toklas's Choc Chunk and Pecan Cookies to bud-boosted versions of foodie faves like Baked Potatoes and Herbal Quiche, this smokin' cookbook includes a sweet snack, pipin' pastry, or blowin' biscuit for every taste bud. So find your kitchen--because this smorgasbord of gustatory ganja delights will take your recreational activities to a much higher level.
About the Author
Chris Stone is a writer and editor with a keen interest in cannabis. Stone is the author of the bestselling book Spliffigami and the follow-up title in the same series, Bongology. Gordon Lewis is a leading food editor, writer, and herb specialist. He has spent many years devising recipes for particular needs--a skill honed within these pages for the benefit of stoners everywhere. Born in Scotland, Lewis now lives and works in New York and London, and has managed noted food stores in both cities.
Praise For Baked!: 35 Marijuana Munchies to Make and Bake…
"The recipes are actually delightfully simple, straightforward, and smart. . . . This is a gateway cookbook. While following the book's recipes will get you high, its most valuable function might be teaching people who don't cook, who have no interest in the kitchen, how to make a decent short crust, the value of roasting whole heads of garlic, and how to tell when a quiche is cooked through."
--The Atlantic Food Channel, 11/3/10
Advertisement