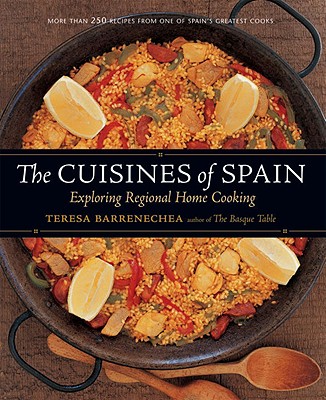 The Cuisines of Spain: Exploring Regional Home Cooking (Hardcover)
Exploring Regional Home Cooking
Ten Speed Press, 9781580085151, 352pp.
Publication Date: November 1, 2005
* Individual store prices may vary.
or
Not Currently Available for Direct Purchase
Description
With the world in a swoon over the gastronomic riches of Spain - from the brilliant array of its traditional tapa dishes to the daring preparations of its new generation of chefs -the timing couldn't be better for the arrival of this long-awaited cookbook. In THE CUISINES OF SPAIN, Teresa Barrenechea, one of the country's most talented culinary ambassadors, showcases her culinary heritage through over 250 recipes culled from her extensive repertoire, and from friends and fellow chefs across Spain. The famed rice dishes of Valencia, the brilliant mojos of the Canary Islands, the hearty stews and braised meats of the interior - all of the classics are here in peak form, as are many lesser-known but equally important and intriguing regional dishes. Steeped in the history of her country, Barrenechea weaves a captivating narrative of Spain's diverse peoples, landscapes, and ingredients, revealing how such forces gave rise to the food traditions that we celebrate today. Over 150 full-color photographs from Barcelona-based photojournalist Jeff Koehler and renowned food photographer Christopher Hirsheimer put Spain's culinary riches on brilliant display. With such a distinguished pairing of author and artists, THE CUISINES OF SPAIN is positioned to be one of the major cookbook releases of the year.
About the Author
TERESA BARRENECHEA was born and raised in the Basque country and moved to New York City as a press attache to the Spanish delegation of the United Nations. In 1991, she opened what became regarded as the city's top traditional Spanish restaurant, Marichu, across from the UN. During her 13 years as chef-owner, Barrenechea wrote the acclaimed Basque Table, which was awarded the National Gastronomy Prize in Spain in 1998. She lives in Madrid, Spain.
Praise For The Cuisines of Spain: Exploring Regional Home Cooking…
Praise for The Cuisines of Spain from around the world:

"It's rare to find a cookbook that distills the spirit of a people and immerses us in the context of a particular cuisine. To cook creatively, we must uncover the soul of a place so that what we prepare has an identity. Because Teresa Barrenechea allows us to truly grasp Spanish cooking, we come away with much more than a few recipes, but with the essence of her country's vital respect for food in our hands and in our hearts. A winner."
–James Peterson, author of Sauces


"In this beautifully illustrated, deliciously researched book, Teresa Barrenechea makes sense out of what outsiders might see as two bewildering paradoxes of Spanish food and indeed Spanish civilization. One is a proud embrace of regional loyalties, coupled with an inescapable overall Spanish identity. The other is a fierce attachment to incredibly old traditions, along with a spirit of defiant modernist invention and reinvention that is just as fierce. Through Teresa's loving presentation of dishes culled from home cooks, remote rural areas, and sophisticated cities–including many recipes never before published in English–you will instinctively taste how vivid flavor and simple pleasure always have been and still are at the heart of the Spanish culinary ethos."
–Maricel Presilla, author of The New Taste of Chocolate


"In an era of novelistic cookbooks and florid foodie memoirs, Teresa Barrenechea takes a refreshingly straightforward approach to her subject matter, which is nothing less than the many and varied cuisines of Spain. She sets the scene and adds useful asides, but her main mission is to tell us how to accurately cook a great deal of honest, not overly complicated, unfailingly delicious food, and at this she succeeds superbly."
–Colman Andrews, author of Catalan Cuisine


"Teresa Barrenechea's love of and expertise on Spain's traditional food is beautifully executed in this exciting book, with charming photos and delightful stories of the people, places, and ingredients."
–Rose Gray and Ruth Rogers, The River Cafe, London


"With her restaurants in New York and her participation in numerous cooking events around the world, Teresa Barrenechea has established herself as the most gifted teacher of our cuisine abroad. The Cuisines of Spain is the culmination of her work, and it is a book of great integrity and beauty."
–Clara Mar'a Gonzalez de Amezœa, coauthor of From Spain with Olive Oil


From Spain's Michelin Three-star Chefs:

"The cuisine of a country is of importance when it is rooted in diverse traditions while at the same time looking to the future. Spanish regional cooking has often been distorted, as so often happens with folk cuisines when we fail to explore their true abundance. In this book, Teresa Barrenechea captures the essence of our country's authentic regional cooking in a way never before accomplished. I am grateful to her for enlightening us with the wealth of our culinary legacy."
–Ferran Adriˆ, Restaurante El Bulli


"Teresa Barrenechea has long been an ambassador for the food traditions of our country. In addition to being a wonderful cook, she has touched me as a friend and as a chef for having transmitted the true essence of our regional cuisines through this book."
–Juan Mari Arzak, Restaurante Arzak


"Teresa Barrenechea has created a precise and beautiful compilation and interpretation of the best Spanish cuisine. This book is truly a declaration of love; Teresa gives to us a present that could only come from a generous soul. I hope this book will invoke in the reader an unbearable curiosity to experience our blessed land, its people, and its gastronomy."
–Martin Berasategui, Restaurante Berasategui


"The cuisines of Spain are diverse, enduring, and full of contrasts, qualities that Teresa Barrenechea has captured in her wonderful book. The Cuisines of Spain reflects the spirit of the land and the people from which our regional cooking arose."
–Santi Santamar'a, Restaurante El Rac— de Can Fabes
Advertisement