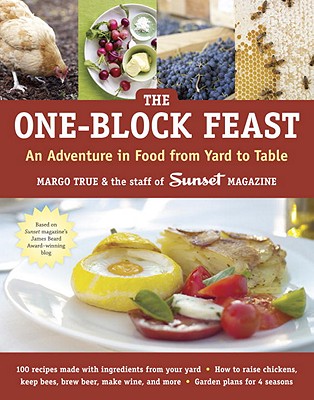 The One-Block Feast (Hardcover)
An Adventure in Food from Yard to Table
Ten Speed Press, 9781580085274, 272pp.
Publication Date: March 22, 2011
* Individual store prices may vary.
or
Not Currently Available for Direct Purchase
Description
Based on the James Beard Award winning blog The One-Block Diet, this all-in-one home gardening, do-it-yourself guide and cookbook shows you how to transform a backyard or garden into a self-sufficient locavore's paradise.
When Margo True and her fellow staffers at Northern California based "Sunset" magazine walked around the grounds of their Menlo Park office, they saw more than just a lawn and some gardens. Instead, they saw a fresh, bountiful food source, the makings for intrepid edible projects, and a series of seasonal feasts all just waiting to happen.
"The One-Block Feast" is the story of how True and her team took an inspired idea and transformed it into an ambitious commitment: to create four feasts over the course of a year, using only what could be grown or raised in their backyard-sized plot. She candidly shares the group's many successes and often humorous setbacks as they try their hands at chicken farming, cheese making, olive pressing, home brewing, bee keeping, winemaking, and more.
Grouped into gardening, project, and recipe guides for each season, "The One-Block Feast" is a complete resource for planning an eco-friendly kitchen garden; making your own pantry staples for year-round cooking and gifts; raising bees, chickens, and even a cow; and creating made-from-scratch meals from ingredients you ve grown yourself. Chapters are organized by season, each featuring a planting plan and crop-by-crop instructions, an account of how that season's projects played out for the "Sunset" team, and a multicourse dinner menu composed of imaginative, appealing, and ultra-resourceful vegetarian recipes, such as:
Butternut Squash Gnocchi with Chard and Sage Brown Butter Egg and Gouda Crepes Whole Wheat Pizzas with Roasted Vegetables and Homemade Cheeses Fresh Corn Soup with Zucchini Blossoms Braised Winter Greens with Preserved Lemons and Red Chile Summer Lemongrass Custards Honey Ice Cream
Generously illustrated and easy to follow, this ultimate resource for today's urban homesteader will inspire you to take eating local to a whole new level.
About the Author
MARGO TRUE is the food editor at "Sunset" magazine. Before "Sunset," she was the executive editor at "Saveur" and senior editor and writer at "Gourmet." She has received three James Beard journalism awards for her food writing, in addition to the James Beard Award for The One-Block Diet blog shared with fellow book contributors Erika Ehmsen, "Sunset" s copy chief and a member of the One-Block project s Team Wine; Elizabeth Jardina of Team Chicken; "Sunset" test garden coordinator Johanna Silver; production coordinator Margaret Sloan, who blogs for Team Bee; recipe editor Amy Machnak; and head gardener Rick LaFrentz, who leads Team Beer. Additional contributors to this book include Kathleen Norris Brenzel, "Sunset" s garden editor; associate food editor Elaine Johnson; test kitchen coordinator Stephanie Dean; Kimberley Burch, imaging specialist; senior editor Rachel Levin; executive editor Christine Ryan; and Brianne McElhiney, editorial assistant."
Praise For The One-Block Feast: An Adventure in Food from Yard to Table…
"Though it's not a cookbook, per se, there are plenty of recipes, and they are just what we've come to expect from this old friend: sophisticated but not off-puttingly so. . . . Whether you plan to grow hops to brew your own beer or simply want to know some good zucchini varieties to plant in your vegetable garden, this is a terrific place to start." 
—LA Times Daily Dish blog, 6/9/11

"More and more these days, cooking has come to resemble the Scout troop activities of our youth, in which we took pride in demonstrating our ability to do it ourselves. For those who are looking to get their proverbial merit badge, consider The One-Block Feast: An Adventure in Food from Yard to Table ($25) a survivor's guide of sorts. Part cookbook, part how-to manual, the book cheerfully explains how anyone can take part in cooking from the ground up, whether you have 40 acres or 40 feet."
—Tasting Table National, 3/23/11

"The One Block Feast is a beautiful demonstration of how to feed yourself deliciously from a modest backyard. It is an inspiring companion for developing food craft and urban homesteading skills using what's right out the door."
—Anya Fernald, former executive director of Slow Food Nation, founder of Live Culture Company, and founder of the Eat Real Festival
 
"Magical, doable, and fun! That's what we came away with after dining with Sunset's One-Block team a couple of summers ago. It has inspired many a meal, a host of garden improvements, and we're teetering on getting chickens."
—Nikki Silva of NPR's The Kitchen Sisters
 
"I'm a firm believer in seasonal, local cooking. This book shows you everything that farm-to-table eating encompasses, and I mean everything!"
—Bill Telepan, chef-owner of Telepan and executive chef of Wellness in the Schools
 
"Margo True and her teams of backyard researchers have taken American ideals centered around living off the land and brought them into our twenty-first-century suburban reality. "
—Sue Conley, co-founder of Cowgirl Creamery
 
"The One-Block Feast is thoroughly irresistible. If you've ever considered growing your own vegetables (not so hard), raising a few chickens (seems possible), tending your own honeybee hives (really?), making cheese from the milk of your very own cow (hey, why not?), or, say, turning seawater into salt (no way!), this delightful book will help you make your dreams come true. And even if you never actually do any of the DIY projects, there are plenty of delicious seasonal recipes to enjoy."
—Melissa Hamilton and Christopher Hirsheimer, authors of Canal House Cooking 
 
"Thomas Church, who landscaped the grounds at Sunset, titled his book, Gardens are for People. So it seems utterly right that Sunset has produced The One Block Feast, a work that is truly for people. It's about producing good food but also about friends and community. It's about taking charge in this most important area of our lives and becoming strong, happy, and resilient. It's helpful, but not preachy. And it shows what's possible when a few people join forces and backyards to grow good food and harbor bees and maybe a cow, then cook and eat together."
—Deborah Madison, author of Local Flavors and Vegetarian Cooking for Everyone
Book Videos
Advertisement