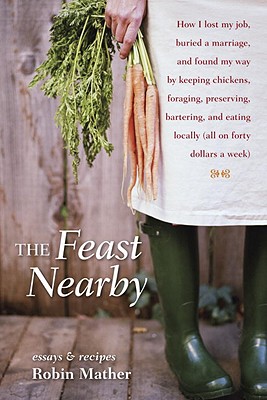 The Feast Nearby: How I Lost My Job, Buried a Marriage, and Found My Way by Keeping Chickens, Foraging, Preserving, Bartering, and Eatin (Hardcover)
How I Lost My Job, Buried a Marriage, and Found My Way by Keeping Chickens, Foraging, Preserving, Bartering, and Eatin
Ten Speed Press, 9781580085588, 272pp.
Publication Date: May 24, 2011
Description
Within a single week in 2009, food journalist Robin Mather found herself on the threshold of a divorce and laid off from her job at the Chicago Tribune. Forced into a radical life change, she returned to her native rural Michigan.
There she learned to live on a limited budget while remaining true to her culinary principles of eating well and as locally as possible. In The Feast Nearby, Mather chronicles her year-long project: preparing and consuming three home-cooked, totally seasonal, and local meals a day--all on forty dollars a week.
With insight and humor, Mather explores the confusion and needful compromises in eating locally. She examines why local often trumps organic, and wonders why the USDA recommends white bread, powdered milk, and instant orange drinks as part of its low-cost food budget program.
Through local eating, Mather forges connections with the farmers, vendors, and growers who provide her with sustenance. She becomes more closely attuned to the nuances of each season, inhabiting her little corner of the world more fully, and building a life richer than she imagined it could be.
The Feast Nearby celebrates small pleasures: home-roasted coffee, a pantry stocked with home-canned green beans and homemade preserves, and the contented clucking of laying hens in the backyard. Mather also draws on her rich culinary knowledge to present nearly one hundred seasonal recipes that are inspiring, enticing, and economical--cooking goals that don t always overlap--such as Pickled Asparagus with Lemon, Tarragon, and Garlic; Cider-Braised Pork Loin with Apples and Onions; and Cardamom-Coffee Toffee Bars.
Mather's poignant, reflective narrative shares encouraging advice for aspiring locavores everywhere, and combines the virtues of kitchen thrift with the pleasures of cooking--and eating--well.
About the Author
Robin Matheris a Michigan native and third-generation journalist whose passion for food and its sources has taken her around the country and the world. She is a two-time James Beard Award finalist for feature writing on food, and her work has been syndicated in newspapers and magazines across North America and abroad. Mather was the food editor of the Detroit News, a senior writer at Cooking Light magazine, and most recently, a staff reporter for the food section of the Chicago Tribune. She also started and ran a small goat dairy from 1995 to 2000 in Mississippi. Her first book, A Garden of Unearthly Delights: Bioengineering and the Future of Food, was the first to expose genetic modification of crops and livestock (and its consequences for the food supply) for a broad market. She lives in a 650-square-foot cottage on a small lake in southwest Michigan, where she is eight miles from the nearest street light. Visit her online at thefeastnearby.com."
Praise For The Feast Nearby: How I Lost My Job, Buried a Marriage, and Found My Way by Keeping Chickens, Foraging, Preserving, Bartering, and Eatin…
"This certainly isn't the first memoir about living la vida locavore, and while its subtitle might inspire a little eye-rolling, the first page lets readers know that the author's scenario is decidedly not contrived. She's middle-aged, suddenly alone and unemployed, and endearing in her frankness about her plight and her financial fears. Though she's not a professionally trained cook, Mather is a longtime food writer and she knows her way around the kitchen. The recipes that accompany her earnest prose are lovely, simple, and just-gourmet-enough. Entries such as whole strawberries in balsamic-black pepper syrup; butternut squash with honey, cherry vinegar, and chipotle; and cardamom-coffee toffee bars are intriguing yet approachable, and they all have a reason, seasonal or otherwise, for being in the book. She shares kitchen wisdom, from the anecdotal ("Get the water on to boil before you pick the corn, and then sprint back to the house with it, shucking as you run") to the practical, such as instructions for making fromage blanc and fresh chevre. (July)"
—Publishers Weekly, 5/16/11

"All Americans know what the good life is supposed to be--­what brands you need, how big a house. So Robin Mather's fine book is charmingly subversive­--a lovely reminder of, and guide to, the things that really count."
—Bill McKibben, author of Eaarth, founder of 350.org
 
"Can local food work? How does it work? Can my kitchen really be economically viable? The Feast Nearby lovingly and practically illustrates how localization works. Robin Mather opens her heart--indeed, bares her soul--in this captivating journey that affirms everything doable and beautiful about living and eating locally. Everyone should read this book."
—Joel Salatin, founder of Polyface Farm, author of You Can Farm
 
"Suddenly out of a job and out of a marriage, food writer Robin Mather retreats to her tiny cabin in the Michigan woods. But instead of wallowing in despair, Mather embraces her new life, its many challenges and also its rewards--learning to live and cook frugally and sharing her days with a cast of endearing companions, both human and animal. The Feast Nearby is much more than a cookbook. It is a moving account, in essays, of Mather's determination to find beauty­--even luxury--in life's simplest offerings. It is a book of honest prose and simple, honest recipes that celebrate the gifts of each season."
—Domenica Marchetti, author of The Glorious Pasta of Italy
 
"Robin Mather invites us along on an extraordinary journey: a yearlong migration from loss to discovery, from her familiar life to a new world of satisfaction and joy. Reluctantly trading job, marriage, and city life for a new beginning in a lakeside cottage, she learns to live bountifully and generously on little money by focusing on the kitchen, and by relying on neighbors and friends. If you want to learn about preserving food, making chèvre, and raising chickens, here's your delicious hands-on primer. If you simply want a moving story handsomely told, this is your book, too. You'll end up wonderfully fed, body and soul, and clear on what it means to live well."
—Nancie McDermott, author of Southern Pies
Advertisement