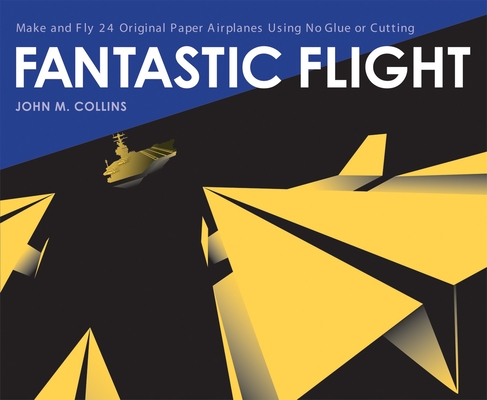 Fantastic Flight: Make and Fly 24 Original Paper Airplanes Using No Glue or Cutting (Paperback)
Make and Fly 24 Original Paper Airplanes Using No Glue or Cutting
Ten Speed Press, 9781580085779, 180pp.
Publication Date: November 1, 2004
Description
Let's Do Launch These aren't your ordinary paper airplanes. These airplanes loop, circle back, flap their wings and spin, tumble, soar, and, of course, glide. In his best-selling book, THE GLIDING FLIGHT, award-winning paper airplane designer John Michael Collins introduced us to the craft of paper airplane folding. In FANTASTIC FLIGHT, the much-anticipated sequel, Collins reveals the next generation of fold-and-fly fun. He explains how to craft 24 new and amazing flying machines like the Looper, the Bat plane, the Super Canard, and the Manta Ray using just single sheets of paper. Featuring a wide range of paper airplanes, from simple designs suitable for young children to more complex planes that, believe it or not, will stay aloft indefinitely, FANTASTIC FLIGHT presents clear, step-by-step folding instructions for an activity the whole family can enjoy. As an extra bonus for teachers, Collins includes a special section on planning educational paper airplane contests complete with lesson ideas. FANTASTIC FLIGHT reveals how to combine aerodynamics, origami, and a single sheet of paper to create phenomenal flying fun.THE GLIDING FLIGHT has sold more than 40,000 copies.
About the Author
JOHN M. COLLINS has been flying paper airplanes over and around California s Marin County and San Francisco for more than 20 years. John is currently the news production supervisor for KRON TV in San Francisco, having directed their newscasts for 18 years. In addition to inventing world-class paper airplanes, John also enjoys origami, boomerangs, windsurfing, stunt kites, and screenwriting."
Advertisement