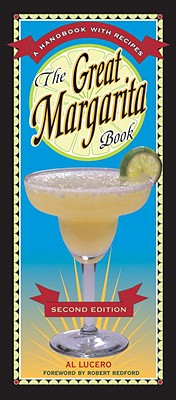 The Great Margarita Book: A Handbook with Recipes (Paperback)
A Handbook with Recipes
Ten Speed Press, 9781580085854, 152pp.
Publication Date: July 1, 2004
Description
When people have asked of a place to eat in Santa Fe, I find myself referring them to Maria's. Is the food good? Yes. But the margaritas they are the best. When you read this book, you'll know why.
-Robert Redford, from the foreword On the rocks or frozen, with lemon or lime, with salt or without, nothing conjures up the festive spirit of Mexico and the Southwest quite like a margarita-especially one made with the best tequila. Al Lucero, owner of Maria's Restaurant in Santa Fe, has served up his nationally acclaimed, authentic margaritas for nearly 20 years. In this revised edition of The Great Margarita Book, Al offers more than 85 of his special formulas along with profiles of more than 75 premium tequilas, including discussions of the all-important blue agave and methods of tequila production, classification, and labeling. Also featuring recipes for spicy dishes from Maria's and other great tequila drinks, The Great Margarita Book is the quintessential guide to America's most festive cocktail. Salud - Revised handbook to premium tequilas and margaritas with new photographs and updated tequila descriptions.
- The previous edition has sold more than 50,000 copies.
About the Author
Al Lucero is the author of The Great Margarita Book: A Handbook with Recipes, which features a foreword by Robert Redford. As the owner of Maria's Restaurant in Santa Fe, Lucero served up his nationally acclaimed, authentic margaritas for nearly 30 years. Maria's was an award-winning restaurant that was inducted into The New Mexico Tourism Hall of Fame. Robert Redford is an Academy Award-winning actor, director, and producer best known for starring in the classic films Butch Cassidy and the Sundance Kid, The Sting, and The Way We Were. Born in 1936 in Santa Monica, California, he studied at Pratt Institute, the American Academy of Dramatic Arts, and the University of Colorado. The accomplished Hollywood star is also the founder of the Sundance Institute, a nonprofit organization that promotes independent storytelling in film and theater.
Advertisement