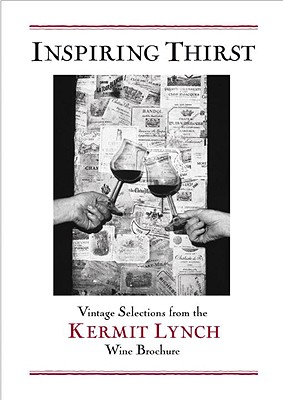 Inspiring Thirst (Hardcover)
Vintage Selections from the Kermit Lynch Wine Brochure
Ten Speed Press, 9781580086363, 408pp.
Publication Date: October 1, 2004
* Individual store prices may vary.
Description
One of the world's most revered wine merchants and importers, Kermit Lynch changed the way Americans drink wine and the way the French make it.
Kermit Lynch's retail shop in Berkeley, California, is a legendary mecca for people who enjoy good wine. Lynch is also a greatly admired writer on the subject. His monthly brochure has been the medium for expressing his philosophy since the early seventies, offering readers not only a wine education, but entry into moldy old cellars and glittering three-star restaurants. It is full of passion, principle, and humor, and peopled by a cast of characters like Patricia Wells, Richard Olney, Lulu Peyraud, Jim Harrison, and many more. In INSPIRING THIRST, Lynch presents under one cover the best of his engaging, highly personal (sometimes cantankerous) accounts of winemakers and their rare potions. Illustrated by the photographs of Gail Skoff, here is a thirst-inspiring treat for wine lovers.
About the Author
KERMIT LYNCH has been named Wine Professional of the Year by the James Beard Foundation and has won the French Chevalier de l'¬?Ordre de Merite Agricole award. He lives in Berkeley, California.
Praise For Inspiring Thirst: Vintage Selections from the Kermit Lynch Wine Brochure…
"Mr. Lynch never engaged in the sort of contrived tasting notes that often pass for wine writing today. Instead, he wrote of the joy and pleasures of consuming good wine, of the winemakers he met and the places he visited. He provided characters, context, and travelogue, and even recipes. In 2004, many of these pieces were gathered into a book, appropriately called Inspiring Thirst."
-New York Times
"[INSPIRING THIRST] Should be required reading for devotees of nature'¬?s poetry in a bottle."
-Publishers Weekly
"This book is a treasure: a compulsively readable collection by the revolutionary wine merchant who, almost single-handedly, has brought about a new understanding of wine as a unique expression of land, tradition, and people."
-Alice Waters, owner, Chez Panisse Restaurant
"For American wine lovers, Kermit Lynch belongs in the same company as Julia Child; he is a pioneer in rediscovering the vinous treasures of the Old World and making them accessible to the rest of us. These original notes from his thirty-year master class are whimsical, passionate, erudite, and eminently thirst inspiring."
-Jay McInerney, author of Bacchus & Me
"A wine lover opening this book will feel like a child entering a pastry shop. You can read it straight through or dip into it, treat yourself to a vivid vignette about the family Peyraud at Domaine Tempier, turn to an essay on the mysteries of "vintage chart mentality," or savor a tasting note about a wine you loved in the 1980s that perhaps you still possess in your cellar. Besides inspiring thirst and the love of wine, the book will also introduce you to the taste and exceptional personality of a man for whom wine is like music: a complete work of art."
-Aubert de Villaine, co-owner Domaine de la Romanee-Conti
"For over 30 years, Kermit Lynch has opened his cellar for public consumption-all of it tasted, tracked, and deliberated over in his newsletter, and now memorialized for us in this anthology. Part memoir, cookbook, tasting journal, photographic reflection (via Gail Skoff's aesthetic vision), and homage to wine's people and terroirs, it is above all a manifesto of the genuine and the antithesis of wine-speak."
-Paul Bertolli, author of Cooking by Hand
"Kermit Lynch is the wine retailer of one's dreams-a man who will take you in and turn you on to the great vinous treasures of the universe; a man who inspires you to taste a world you hardly knew existed; a man devoted to your pleasure by inviting you to share in his. This book is proof that great wine is meant to be reveled in and shared. Don't miss it."
-Karen MacNeil, author of The Wine Bible
or
Not Currently Available for Direct Purchase