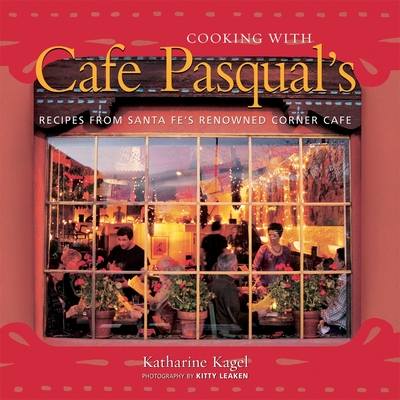 Cooking with Cafe Pasqual's: Recipes from Santa Fe's Renowned Corner Cafe (Hardcover)
Recipes from Santa Fe's Renowned Corner Cafe
Ten Speed Press, 9781580086493, 157pp.
Publication Date: July 1, 2006
Description
For more than 25 years, Caf?(c) Pasqual's has kept loyal fans coming back with this simple philosophy: serve wonderful, fresh food with friendly service in a festive atmosphere. Inspired by the cuisines of Old Mexico, New Mexico, and Asia, chef Katharine Kagel creates her memorable comfort food from the freshest cheeses, chile sauces, chorizos, and more. In COOKING WITH CAF?a PASQUAL'S, Kagel shares her favorite recipes, along with an extensive source list for purchasing special ingredients.A collection of recipes from Caf?(c) Pasqual's, an intimate, bustling Santa Fe restaurant known for its outstanding Southwestern cuisine, eclectic decor, and hospitable proprietor.Includes more than 70 easy-to-prepare recipes for every meal of the day and 70 full-color food and locations shots.Caf?(c) Pasqual's is committed to serving organic greens, eggs, coffee, dairy, and flour and naturally raised beef, pork, and chicken.Caf?(c) Pasqual's won the 1999 James Beard Award for American Regional Classics.Reviews"The kind of book wherein you can sense the author really, really loves her own cooking, and the photographer delighted in making them look as good as they taste."-John Mariani's Virtual Gourmet"The 75-plus recipes that are presented here fully represent Caf?(c) Pasqual''s in all its colorful glory." -Wine News"Just looking at the gorgeous illustrations in this cookbook will make you feel as though you'?re basking in the Santa Fe sunshine."-Taste for Life Magazine.
About the Author
Katharine Kagel is the founder and chef of Cafe Pasqual's. She helped to found Foodchain, the international association of prepared and perishable food rescue programs, as well as Santa Fe's the Food Brigade, an all-volunteer organization that distributes food to local shelters. She lives in Santa Fe, New Mexico. Visit www.pasquals.com
Advertisement