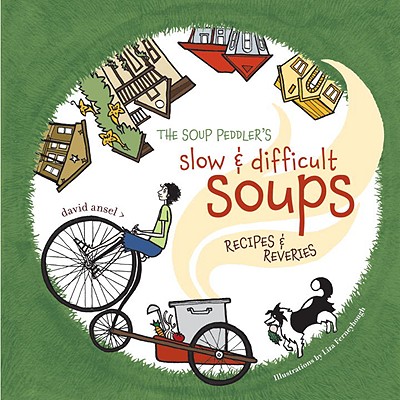 The Soup Peddler's Slow and Difficult Soups: Recipes and Reveries (Paperback)
Recipes and Reveries
Ten Speed Press, 9781580086516, 192pp.
Publication Date: September 1, 2005
* Individual store prices may vary.
or
Not Currently Available for Direct Purchase
Description
With just a yellow bike, a used trailer, and a few two-quart containers of homemade gumbo, David Ansel began peddling soupto his friends and neighbors in the free-spirited community of Bouldin Creek in Austin, Texas. He dubbed his loyal customers -Soupies, - and as word of his grassroots soup service spread, his delivery roster grew into a veritable Cult of the Bowl.THE SOUP PEDDLER'?S SLOW & DIFFICULT SOUPS is David''s heart- and belly-warming story of his first soup season peddling to the slacker-philosophers, artist-activists, and celebrity-eccentrics of Bouldin Creek. On his route, you'?ll meet a cross-dressing mayoral candidate, a radical coterie of plant liberators, a scheming ice cream man, and Alex the Wonder Dog, among others. To season his stories, David shares 35 of his most popular soups, with eclectic recipes like South Austin Chili, Alaskan Salmon Chowder, Smoked Tomato Bisque, Schav (Jewish sorrel soup), and Ajiaco (Colombian chickencornsoup).A loving homage to the art, science, and joy of soup, and a taste of simpler times in our modern fast-food nation, SLOW & DIFFICULT SOUPS is a rousing reminder of our basic need to connect to our food-and those who cook, deliver, and slurp it.Reviews: -How could you not love a book by a Jewish boy from Texas that combines thoughts about fudgecicles, Baptist preachers, dogs, and a band called the Barbecuties with soups from Austin, Algeria, Armenia, and just about every place in between? Great recipes and a great read.--Ari Weinzweig, cofounder of Zingerman'?s-David has produced a book full of insightful, personal stories and well-crafted recipes. SLOW & DIFFICULT SOUPS provides the reader with a front row seat to his unique culinary adventure.--John Campbell, creator of Central Market-SLOW & DIFFICULT SOUPS is filled with the sense of community David and his business embody; it shows us how the slow food movement is meant to be lived.--Steven Bercu, CEO of BookPeople-Reading these tales is like following David on his bike as he brings his soups to the people of Austin. He''s a first-class storyteller and one helluva soupmaker.--Joan Nathan, author of Jewish Cooking in America.
About the Author
The Soup Peddler is DAVID ANSEL, a sixth-generation Baltimorean Jew expatriate living in the liberal enclave of Austin, Texas. His transformation from software developer to yoga teacher to bicycle-pedaling purveyor of soup has attracted attention from such disparate media as the Christian Science Monitor and Punk Planet. His booming soup-delivery service has also been featured on the Food Network.
Advertisement