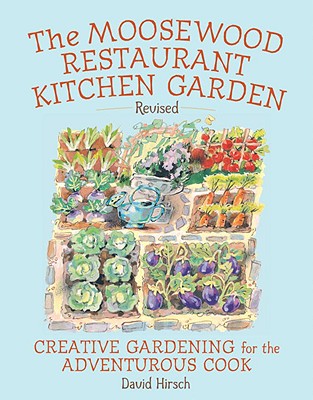 Moosewood Restaurant Kitchen Garden: Creative Gardening for the Adventurous Cook (Paperback)
Creative Gardening for the Adventurous Cook
Ten Speed Press, 9781580086660, 304pp.
Publication Date: March 1, 2005
* Individual store prices may vary.
or
Not Currently Available for Direct Purchase
Description
It happens every season but still inspires awe-tiny plants emerge from quarter-inch seeds and grow to five feet tall in a matter of weeks. The physical and sensual satisfaction of nurturing a garden is surpassed only by the pleasures of preparing and eating the fruits of your labor.In The Moosewood Restaurant Kitchen Garden, long-time Moosewood Collective member David Hirsch shares his expertise on growing, harvesting, and cooking with more than 75 vegetables, herbs, and edible flowers. This completely revised, comprehensive guide to culinary gardening also features information on heirloom varieties (many of which aren't available in local markets), basic gardening techniques, and practical ideas to help new and experienced gardeners design their plots. Including culinary tips for simple vegetable and herb preparations as well as 70 recipes, The Moosewood Restaurant Kitchen Garden will inspire home cooks to make full use of their backyard harvests, taking homegrown seasonal food to a delicious and bountiful new level.The ideal companion to gardening for the kitchen from Moosewood Collective member David Hirsch.Culinary tips and charming anecdotes accompany discussions of each fruit, vegetable, and herb.Thanks to the proliferation of sustainable, organic farming over the last 20 storied years, and with ongoing support from famous foodies like Alice Waters, the general population is becoming increasingly knowledgeable about the benefits of organic foods and increasingly appreciative of local harvests.Previous edition sold 80,000 copies.
About the Author
DAVID HIRSCH has been a member of the Moosewood Collective since 1976. Trained as an architect, he eventually turned his passion for gardening and cooking into a vocation. Hirsch is one of the co-authors of all nine Moosewood Collective cookbooks, including Moosewood Restaurant Celebrates and NEW RECIPES FROM MOOSEWOOD RESTAURANT. He lives in near Ithaca, New York.
Praise For Moosewood Restaurant Kitchen Garden: Creative Gardening for the Adventurous Cook…
"With his extensive knowledge, David Hirsch gently leads green-thumbed cooks from beginners to masters. (I especially like the culinary tips for each vegetable and herb that he shares along the way!) A treasure trove of great information you'll definitely want to keep handy." -Rosalind Creasy, author of The Complete Book of Edible Landscaping "Some of us can cook and some of us can garden, but we can't always get the two skills to meet. In this newly revised The Moosewood Restaurant Kitchen Garden, David Hirsch tells us not only what to plant, but how to take care of it and how to cook it. From exotic heirloom vegetables to everyday staples, this book has it all-a must-have for the cook and gardener."-James Peterson, author of Sauces and Splendid Soups
Advertisement