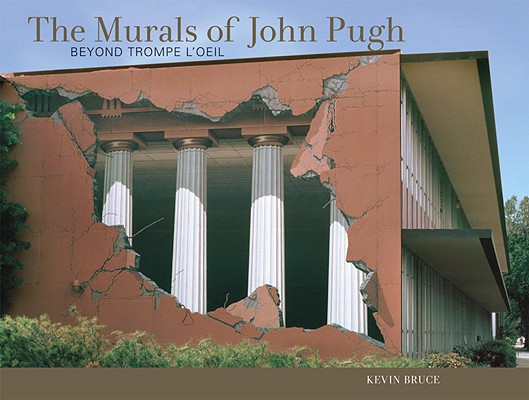 The Murals of John Pugh: Beyond Trompe L'Oeil (Hardcover)
Beyond Trompe L'Oeil
Ten Speed Press, 9781580087223, 155pp.
Publication Date: August 1, 2006
* Individual store prices may vary.
or
Not Currently Available for Direct Purchase
Description
John Pugh has created more than 200 murals and is considered to be the leading proponent, authority, and practitioner of Narrative Illusionism, a term coined to describe his particular mural style. This full-color collection showcases Pugh's most famous pieces, discusses how he revitalized the trompe l'oeil ("trick of the eye") genre into a vital mode of artistic expression, and illuminates the artist's creative process from sketch to finished mural.A full-color collection of master trompe l'oeil muralist John Pugh's art, alongside detailed analysis-from conception to unveiling-with an emphasis on how his work relates to and enhances its setting.Includes more than 40 full-color photos of the murals depicting architectural, natural, and pictorial settings.John Pugh's murals appear in more than 30 cities throughout the country, including San Francisco, Miami, Honolulu, and Anchorage.Pugh's work has been featured in publications worldwide, including Time magazine, Artweek, Art Business News, the Los Angeles Times, the New York Times, and the San Francisco Examiner.
About the Author
JOHN PUGH has been creating mural artistry since the late 1970s. He attended California State University Chico, receiving his BA in 1983 and the Distinguished Alumni Award in 2003. He has received numerous public and private commissions in the United States, Taiwan, and New Zealand. He lives in Santa Cruz, California. Visit www.illusion-art.com KEVIN BRUCE is a native Californian born in San Francisco in 1941. Author of THE MURALS OF JOHN PUGH, he is currently engaged as an art historian and author with a focus on chronicling the contemporary mural. He resides with his wife and fellow mural archivist, Pauline, in Scottsdale, Arizona, and Berkeley, California.

THE AUTHOR SCOOP

Read any good books lately?I am a fan of Michael Connelly, Lee Childs, Elizabeth George, P.D. James, and art historian Wanda Corn.What are you working on now?I may be working on a book on the largest mural in the world, which may be created in Dubai.What's the farthest you've ever traveled?The longest trip I have taken was a 104-day round the-world cruise on the Saga Rose in 2002. It was over 37,000 miles on the ocean and about 10,000 miles over it.What was the first book you can remember reading?The first real book I remember was Dr. Dolittle by Hugh Lofting. I read all his books one summer.If you had to boil the message of Large Art in Small Places down to a couple sentences, what would it be?With this book as your guide, it is my hope that you discover the richness of the California mural towns and all that they have to offer the enlightened traveler. It is also my hope that you seek out mural towns elsewhere in your travels: with murals as a central focus, the history and culture of the world are on the walls for you to enjoy."
Advertisement