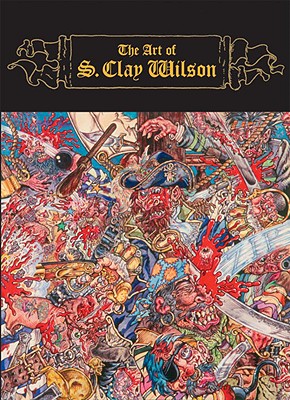 The Art of S. Clay Wilson (Hardcover)
Ten Speed Press, 9781580087537, 154pp.
Publication Date: August 1, 2006
* Individual store prices may vary.
or
Not Currently Available for Direct Purchase
Description
THE ART OF S. CLAY WILSON is the long-awaited career retrospective of the most extreme of the Zap cartoonists of the late 1960s. A self-described ""graphic agoraphobe,"" Wilson draws manically dense scenes of lurid mayhem that rank among the seminal works of underground, counterculture American art. It's all here, from the classic chronicles of the Checkered Demon to salacious stories about the pirates, prostitutes, and poets that inhabit Wilson's divinely depraved world.The definitive collection of the art of legendary Zap comic artist S. Clay Wilson.Features 200 full-color images, including new work and previously unpublished prints commissioned for private collections.Introduction by R. Crumb touts Wilson's role as one of the originators of underground comix."Wilson was the strongest, most original artist of my generation that I had yet met. . . . There was something very familiar about the drawings, yet something entirely new, never before seen It looked like folk art, like old-time tattoos, like some high school hotrodder's notebook drawings. They were rough, crazy, coarse, deeply American."-from R. Crumb's introductionReviews"To hell with Capt. Jack Sparrow, when are they going to make a movie about Cap'n Pissgums and his Pervert Pirates?. . . Even the least of the prints throb with diabolical energy and are ornamented by the kind of hardboiled captions you wish could be turned into movie dialogue."-San Jose Metro." . . rather rude (but very welcome). . . it's mesmerizing work, and hugely influential as well."-PW Daily.
About the Author
S. CLAY WILSON's personal epiphany occurred in the heartland over a half century ago when he discovered E.C. Comics. He has been drawing ever since. After years of needless college education in art department dogma, some military service, travel hither and yon, and years of shows and comics, he believes that if you're not good enough to be a cartoonist, maybe you can be an artist. He lives and draws in San Francisco.
Advertisement