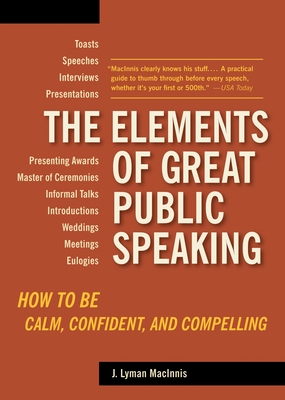 The Elements of Great Public Speaking: How to Be Calm, Confident, and Compelling (Paperback)
How to Be Calm, Confident, and Compelling
Ten Speed Press, 9781580087803, 148pp.
Publication Date: September 1, 2006
Description
Great speakers aren't just born; they prepare and they practice. THE ELEMENTS OF GREAT PUBLIC SPEAKING takes the fear out of taking the podium, distilling essential techniques and tricks for just about any speaking occasion. Experienced businesspeople, nervous students, best men, and eulogists alike can benefit from the author's simple, direct, and tested advice on everything from body language and word choice to responding to the audience and overcoming stage fright. Because there's no such thing as a boring topicAijust boring speakersAiELEMENTS shows how to look, sound, and act like someone worth listening to.ReviewsAuThe go-to guide for anyone about to stand up and say something. . . A practical guide to thumb through before every speech, whether it's your first or 500th.Au AiUSA Today.
About the Author
J. LYMAN MACINNIS, a columnist for the Toronto Star, has given thousands of public addresses over four decades, including 5,000 radio broadcasts. By profession a partner in international accounting firms, he has trained businesspeople in public speaking and communication for more than 30 years and is the author of 11 books and hundreds of articles. He lives in Toronto, Canada.
Advertisement