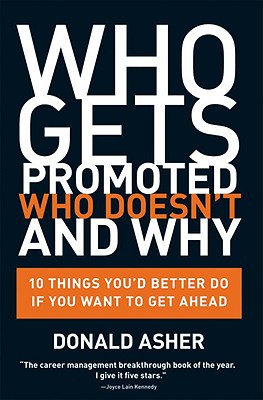 Who Gets Promoted, Who Doesn't, and Why: 10 Things You'd Better Do If You Want to Get Ahead (Paperback)
10 Things You'd Better Do If You Want to Get Ahead
Ten Speed Press, 9781580088206, 168pp.
Publication Date: May 1, 2007
* Individual store prices may vary.
or
Not Currently Available for Direct Purchase
Description
Do your job, do it well, and you'?ll be rewarded, right? Actually, probably not. According to career guru Donald Asher advancement at work is less about skill sets and more about strategy. WHO GETS PROMOTED, WHO DOESN'?T, AND WHY details exactly what puts one employee on the fast track to an exceptional career, while another stays on the treadmill to mediocrity.Whether you'?re new to the workforce or feeling stagnant and overlooked, this book is your ticket to advancement. Learn: why timing is more important than talenthow corporations really make promotion decisions how to avoid career mistakes you don''t even know you'?re making and the ten proven strategies for advancement regardless of your industry and experience If you want to know how to begin controlling your own destiny, the solution is not to work harder but to work smarter. WHO GETS PROMOTED, WHO DOESN'?T, AND WHY can help you do just that ReviewsKennedy-Krannich Top 10 career book pick of the year: "A brilliant book by a top career consultant offers startling new conclusions (timing is more important than talent, for example) based on interviews with hundreds of fast-track careerists who reveal how corporations really make promotion decisions."-Los Angeles Times Syndicate"A little book with a big message . . . Must-reading for anyone who is interested in building their career."-About.com"I doubled my income with the tips in this book "-Adele Liss, public relations executive, San Francisco

About the Author
Career consultant DONALD ASHER is a featured speaker at more than 100 colleges and universities every year, coast to coast. A columnist for MSN Encarta and contributor to the "Wall Street Journal"'s CareerJournal.com and CollegeJournal.com, he divides his time between Nevada and San Francisco.
Advertisement