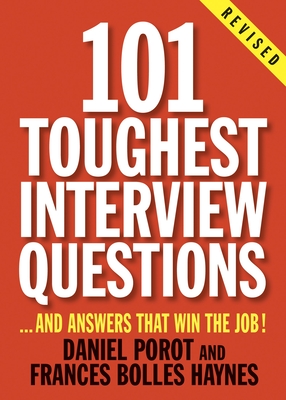 101 Toughest Interview Questions: And Answers That Win the Job! (Paperback)
And Answers That Win the Job!
Ten Speed Press, 9781580088497, 248pp.
Publication Date: October 6, 2009
Description
Nothing is more crucial to landing your dream job than a stellar performance in the all-important interview, that nerve-wracking final step to every job search. Extensively updated and revised for today's highly competitive employment market, this compact, concise handbook will prepare you for the most challenging and frequently asked questions you can expect to encounter. Following each question is a list of savvy, can't-miss sample answers, which can be easily modified to reflect your own experience level, skills, and qualifications.
About the Author
Veteran career experts Daniel Porot and Frances Bolles Haynes also reveal key information that interviewers need to gather from their discussion with you, allowing you to provide the most relevant, strategic responses possible. An invaluable resource for job-seekers at any career stage, 101 Toughest Interview Questions is packed with effective tips and proven techniques to help you perform your best. You'll learn how to thoroughly prepare for the big day, replace anxiety with confidence and poise, and ace even the most nail-biting interview.
Praise For 101 Toughest Interview Questions: And Answers That Win the Job!…
"Jam packed with...questions that seem ludicrous but will likely be asked on your next interview."
—Eve Tahmincioglu the "Your Career" columnist for MSNBC.com
 
"This book can help you ace job interviews. It's compact size fits easily in your purse or briefcase, and a flashcard-like format arms job seekers with the can't miss, sure-hire answers interviewers want to hear. ...make it your buddy before your interviews."
—Marvin Walberg, "Getting Hired" Careers Columnist, Scripps Howard News Service
 
Named one of "5 Books That Will Help Your Career." Called it "the secret to every interview you have from here on out."
—CareerBuilder.com
Advertisement