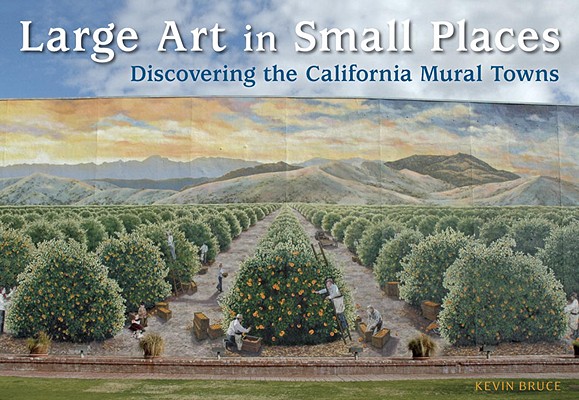 Large Art in Small Places: Discovering the California Mural Towns (Paperback)
Discovering the California Mural Towns
Ten Speed Press, 9781580088800, 192pp.
Publication Date: April 1, 2009
* Individual store prices may vary.
or
Not Currently Available for Direct Purchase
Description
A Colorful Journey throughSmall Towns with Epic Art
In the 1930s, film star (and part Cherokee) Will Rogers would come to Bishop, California, and buy the Native American children ice cream at the local pharmacy soda fountain, at a time when they weren't allowed inside. Today, a mural on the town's modern-day pharmacy commemorates that moment--huge pink ice cream cones and all. The small towns of California are filled with such murals, capturing moments of local color, cultural significance, natural beauty, and imaginative whimsy. This book is your key to going off the beaten path and discovering these hidden gems of public art for yourself.
LARGE ART IN SMALL PLACES features more than 250 contemporary murals by noted muralists and local artistic collectives alike, including the trompe l'oeil narrative illusions of John Pugh, the larger-than-life epic masterpieces of Wei Luan, the expressive portraits of Don Gray, and the dramatic historic tableaus of Art Mortimer. Part art book and part travel guide, LARGE ART IN SMALL PLACES takes mural aficionados, local history lovers, armchair travel-ers, and weekend roadtrippers on an unforgettable tour of quaint, quirky, and colorful small-town California.
About the Author
KEVIN BRUCE is a native Californian born in San Francisco in 1941. Author of THE MURALS OF JOHN PUGH, he is currently engaged as an art historian and author with a focus on chronicling the contemporary mural. He resides with his wife and fellow mural archivist, Pauline, in Scottsdale, Arizona, and Berkeley, California.

THE AUTHOR SCOOP

Read any good books lately?I am a fan of Michael Connelly, Lee Childs, Elizabeth George, P.D. James, and art historian Wanda Corn. What are you working on now?I may be working on a book on the largest mural in the world, which may be created in Dubai. What's the farthest you've ever traveled?The longest trip I have taken was a 104-day round-the-world cruise on the Saga Rose in 2002. It was over 37,000 miles on the ocean and about 10,000 miles over it. What was the first book you can remember reading?The first "real" book I remember was Dr. Dolittle by Hugh Lofting. I read all his books one summer.If you had to boil the message of Large Art in Small Places down to a couple sentences, what would it be?With this book as your guide, it is my hope that you discover the richness of the California mural towns and all that they have to offer the enlightened traveler. It is also my hope that you seek out mural towns elsewhere in your travels: with murals as a central focus, the history and culture of the world are on the walls for you to enjoy.
Praise For Large Art in Small Places: Discovering the California Mural Towns…
"It's a delightful pictoral tour of 'California Mural Towns,' highlighting public art from the 1930s to the present. Great stuff."
—Sacramento Bee
 
"Historical, commemorative, beautiful, imaginative, quirky, and surprising are just a few of the adjectives that describe the contemporary mural art included in this art book and travel guide.  . . . If you enjoy art or travel from your armchair, or if you want a new road trip on the West Coast, pick up this nifty book."
—Maine Antique Digest
 
"This handsome guide...will appeal to anyone who loves and appreciates murals, no matter where they live."
—Chicago Tribune
 
"The book is an intriguing look into an incredible art form in which the real deals are only a car ride away."
—Contra Costa Times
 
"This photo-rich art book is great for armchair travelers, art lovers and those wishing to travel the California back roads in search of small towns whose civic pride created murals featuring local history or scenic wonders. ...If you cannot make the trip to see these large impressive artworks, buy the book and enjoy it in the comfort of your favorite chair."
—Escapees
 
"the perfect guide for an art trip in the Gold Rush state."
—True West

"In all my years traveling around California, I have always loved seeing local communities celebrate themselves with murals. And now you can keep this book in your car and wherever you go, you will always know where to see a great mural."
—Huell Howser, producer and host of  public television's California's Gold
"Large Art in Small Places unveils a pictorial travelogue of the pride and cultural heritage that fostered the development of quaint small towns in California. This book is a must-have for those who would embark on the adventure of discovering the 'Other California.'"
—Bill Drennen, cofounder of the California Public Art and Mural Society
Advertisement