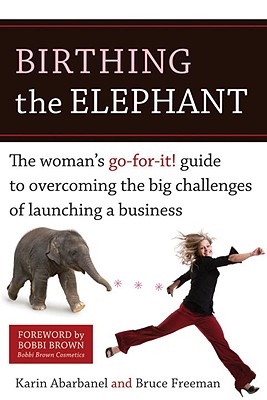 Birthing the Elephant: The Woman's Go-For-It! Guide to Overcoming the Big Challenges of Launching a Business (Paperback)
The Woman's Go-For-It! Guide to Overcoming the Big Challenges of Launching a Business
Ten Speed Press, 9781580088879, 211pp.
Publication Date: March 1, 2008
Description
Customized for the female entrepreneur's unique psychological experience of launching a business, BIRTHING THE ELEPHANT goes beyond logistics to prepare women for the emotional challenges they will face, with expert advice on reshaping one's business identity, giving up the paycheck mentality, anticipating problems, and avoiding costly mistakes. This supportive handbook gives the small-business owner the staying power to survive and succeed in the business of her dreams.A female entrepreneur's guide to navigating the psychological aspects of launching and building a business during the critical first 18 months. Women-owned businesses are increasing at twice the rate of other startups, with 500,000 launches each year. With a foreword by cosmetics guru Bobbi Brown.ReviewsRead all about it on: http: //news.shelf-awareness.com/nview.jsp?appid=411&j=535397#2499225-Shelf Awareness..".emerging entrepreneurs will find advice that's worth the price of the book alone."-Booklist"This positive and practical guide for the first-time entrepreneur details the life cycle of a small-business launch with real-life stories and a slew of helpful hints and strategies."-Publishers Weekly PW and AARP's Roundup of Spring Books for Baby Boomers 4/15/08It's main segment on the page this week "Cash Flow: Subbing Brains fro Cash" featuring a contributor to the book and Karin plus, if you click on "small business: view all videos," you can see Karin's sole interview from the week before: "Cash Flow: 4 Spending Mistakes"-SmartMoney TV"With the number of women-owned businesses growing in the U.S. at the rate of one every 60 sconds-roughly 600,000 launches a year, according to the authors-the audience for this positive, cheerful, practical book should be substantial."-Publishers Weekly.
About the Author
BRUCE FREEMAN, nationally known as the Small Business Professor, is a syndicated columnist for The Tribune News Service. He is the president of ProLine Communications and serves as an adjunct professor of marketing at Seton Hall University. Bruce lives with his wife and two daughters in Livingston, New Jersey. KARIN ABARBANEL runs a marketing communications firm and served as Avon Corporation's spokesperson for its "Corporation to Cottage" initiative. She is the author of How to Succeed on Your Own and coauthor of The Art of Winning Foundation Grants. Karin lives in Montclair, New Jersey.
Praise For Birthing the Elephant: The Woman's Go-For-It! Guide to Overcoming the Big Challenges of Launching a Business…
"Part portable success coach, part action guide, this book maps the launch cycle, taking entrepreneurs step-by-step through the first 22 months of a start-up--showing them smart moves to make and pitfalls to avoid."
--Inc.com, 6/14/10
Advertisement