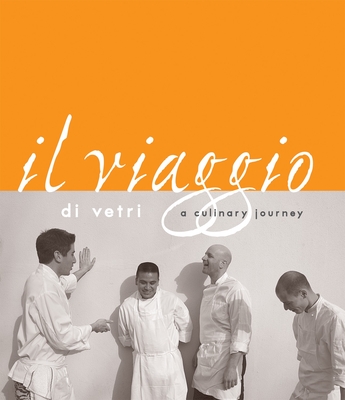 Il Viaggio Di Vetri
A Culinary Journey [A Cookbook]
Hardcover

* Individual store prices may vary.
Description
In 1993, Marc Vetri boarded a plane with a note of introduction in one pocket and a few hundred dollars in the other. He landed in Bergamo, in northern Italy, where he spent the next eighteen months immersed in the soulful cooking and great-hearted hospitality of some of the region's top chefs and restaurateurs. Four years later he was ready to open his restaurant, Vetri, in Philadelphia, where he continued to develop his style of authentic yet innovative Italian cuisine, gaining acclaim as one of the finest Italian chefs in the country.
 
Il Viaggio di Vetri, Marc's long-awaited debut cookbook, celebrates the core of great Italian cooking: a superb  meal shared with family and friends. Chapters cover a full range of cold and hot appetizers; pastas and risottos; fish and shellfish; meat; poultry, game, and organ meats; vegetable side dishes; and desserts, giving the home cook more than 120 skillfully presented dishes to choose among, including:
 
Foie Gras Pastrami with Pear Mostarda and Brioche
Squid and Artichoke Galette
Chestnut Fettuccine with Wild Boar Ragu
Olive-Crusted Wild Bass with Confit of Leeks
Pork Rib and Cabbage Stew
Rustic Rabbit with Sage and Pancetta
Fennel and Apricot Salad
Mascarpone Custard with Puff Pastry and Figs
 
Accompanying wine notes by sommelier Jeff Benjamin deliver lively lessons on both the classic and lesser known wines of Italy. Throughout, Marc Vetri shares tales of his cooking apprenticeship in Italy and, with generosity and passion, shows how to bring the lessons he learned there into the home kitchen.
Praise For Il Viaggio Di Vetri: A Culinary Journey [A Cookbook]…
"Mark Vetri has the heart and soul of an ancient and serene Italian grandmother, and his cooking shares that soul with each of the guests at his perfect and delicious eponymous ristorante in Philly. Now home cooks can get a slice of that perfection with this magnificent tome of uncompromisingly excellent yet very straightforward recipes from his heart and the hearts of Italian cooks. There is no doubt in my mind that this book will be a classic for decades--an essential for anyone who wants to cook like a real Italian at home."  --Mario Batali, author of Molto Italiano
 
"If I were going to eat one Italian meal in America, it would be at Marc Vetri's place."  --Alan Richman, author of Fork It Over
 
"Like Marc Vetri's food, his new book reflects a philosophy I enthusiastically embrace: honor clarity and simplicity above all, and remain true to yourself by pouring your heart and soul into each and every effort. Marc is clearly inspiring, and when I put his book down, I couldn't decide whether to race to the kitchen or book a flight to Italy!"  --Patricia Wells, author of Vegetable Harvest

"There's a lot the restaurants Osteria and Vetri don't have in common. There's one very lucky thing they do. Both are helmed by Marc Vetri, whose enormous talents have brought him a widespread, fervent regard." --Frank Bruni, New York Times

"Mario Batali loves the place, and so does just about everyone else who's lucky enough to snag one of the 35 seats in this casual but rarefied room." --Gourmet (naming Vetri one of the top 50 restaurants in the country)

"everyone loves Marc's food, hospitality and philosophy: It's all about the cooks and the cooking. No pretension, just genius food." --Dana Corwin, Food & Wine

"Vetri takes Italian food to a new level in the United States." --Michael Bauer, San Francisco Chronicle 

"More than a cookbook, this debut from acclaimed Philadelphia chef/restaurateur Vetri is a guide through the particular Italian cuisine and culture on which he has based his career...Amateur chefs may have only dreamed of having a culinary journey like Vetri's, but with this book he has given them a reliable key to turning dream into reality."—Publisher's Weekly *Starred Review* 
Ten Speed Press, 9781580088886, 304pp.
Publication Date: October 1, 2008
About the Author
Marc Vetri is the chef/owner of Vetri and Osteria, both in Philadelphia, Pennsylvania. He was named one of the top ten new chefs in the United States by Food & Wine and won the James Beard Best Chef: Mid-Atlantic Award in 2005. In 2006, Gourmet selected Vetri as one of the top fifty restaurants in the country.
 
David Joachim is the author or coauthor of many cookbooks, including Mastering the Grill and the New York Times best seller A Man, a Can, a Plan. He lives in Allentown, Pennsylvania.
or
Not Currently Available for Direct Purchase