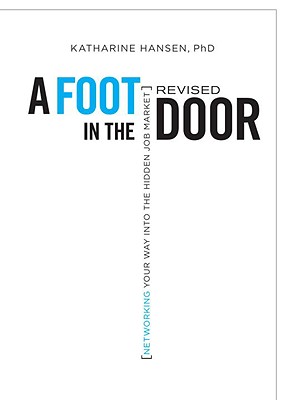 A Foot in the Door: Networking Your Way Into the Hidden Job Market (Paperback)
Networking Your Way Into the Hidden Job Market
Ten Speed Press, 9781580088923, 218pp.
Publication Date: December 31, 1969
* Individual store prices may vary.
or
Not Currently Available for Direct Purchase
Description
This empowering and accessible guide shows career rookies how to get a foot in the door-and then kick it wide open. The revised second edition emphasizes the importance of contemporary social networking, such as discussion groups and forums, online portfolios, and blogging. Featuring a list of networking hot spots, confidence-building advice for the shy or intimidated, and a comprehensive guide to informational interviewing, A FOOT IN THE DOOR reveals proven strategies that will help those seeking their first real-world job land the position they've been looking for.
A concrete and practical guide to the nuts and bolts of networking, using a step-by-step approach geared to recent grads and young career changers. Helps young professionals identify who they should connect with. Katharine Hansen's books have sold 145,000 copies. Reviews"Extensive chapters on informational interviewing and Internet networking make this a must-have book for job seekers and others trying to connect with people in the workplace." AiAmy Lindgren, Syndicated Career Columnist"You name it, if it deals with networking, on any level, Katharine Hansen's book covers it. ...This is a book I wish I had written. It will help you."AiMarvin Walberg, Scrips Howard News Service Syndicated Career ColumnistStrand Media Group's "Something You Should Know" air date TBA

About the Author
KATHARINE HANSEN, PHD, has authored some of the most widely used job-hunting resources on the market, including DYNAMIC COVER LETTERS (100,000 copies sold). She is an instructor of business communication and the creative director for Quintessential Careers, which receives one million unique website visitors monthly and has been awarded a Forbes.com Best of the Web award. She lives in DeLand, Florida.
Advertisement