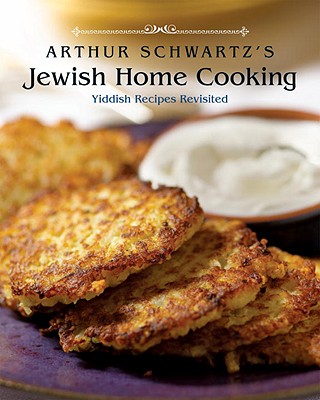 Arthur Schwartz's Jewish Home Cooking
Yiddish Recipes Revisited [A Cookbook]
Hardcover

* Individual store prices may vary.
Description
Arthur Schwartz knows how Jewish food warms the heart and delights the soul, whether it's talking about it, shopping for it, cooking it, or, above all, eating it. JEWISH HOME COOKING presents authentic yet contemporary versions of traditional Ashkenazi foods-rugulach, matzoh brei, challah, brisket, and even challenging classics like kreplach (dumplings) and gefilte fish-that are approachable to make and revelatory to eat. Chapters on appetizers, soups, dairy (meatless) and meat entrees, Passover meals, breads, and desserts are filled with lore about individual dishes and the people who nurtured them in America. Light-filled food and location photographs of delis, butcher shops, and specialty grocery stores paint a vibrant picture of America's touchstone Jewish food culture. Stories, culinary history, and nearly 100 recipes for Jewish home cooking from the heart of American Jewish culture, New York City. Written by one of the country's foremost experts on traditional and contemporary Jewish food, cooking, and culinary culture. Schwartz won the 2005 IACP Cookbook of the Year.Reviews & Awards

James Beard Foundation Cookbook Award Finalist: American Category

IACP International Association of Culinary Professionals Cookbook Awards, American Category Finalist  "Jewish Home Cooking helps make sense of the beautiful chaos, with a deep and affectionate examination of New York's Jewish food culture, refracted through the Ins of what he calls the Yiddish-American experience."—New York Times Book Review Summer Reading issue, cookbook roundup"Schwartz breathes life into Yiddish cooking traditions now missing from most cities' main streets as well as many Jewish tables. His colorful stories are so distinctive and charming that even someone who has never heard Schwartz's radio show or seen him on TV will feel his warm personaality and love for food radiating from the page . . . Cooks and readers from Schwartz's generation and earlier, who know firsthand what he's talking about, will appreciate this delightful new book for the world it evokes as much as for the recipes."—Publishers Weekly


Ten Speed Press, 9781580088985, 288pp.
Publication Date: April 1, 2008
About the Author
ARTHUR SCHWARTZ is a Brooklyn-based food critic, writer, and media personality. New York Times Magazine has called him "a walking Google of food and restaurant knowledge." His five previously published cookbooks include the IACP award-winning and James Beard award-nominated Arthur Schwartz's New York City Food.

 THE AUTHOR SCOOP

If you had to boil your book's message down to one sentence, what would it be? Food is more than something to eat; it's culture – history, politics, geography, agriculture, the human story and experience -- in a mouthful.What's been sitting in the back of your fridge for more than a year?Sicilian tomato extract – estratto in Italian, stratu in Sicilian – extra concentrated tomato paste. It gets better with age.What's the oddest ingredient or meal you've ever had?A meal at a famous food writer's house: She served chopped liver and challah as an appetizer when half the guests had told her they didn't eat liver, then pork roast for a main course, but no vegetables, no potatoes, just candied apple rings, then two chocolate desserts, neither of them particularly good. And she is a baking writer!!!!! Oh well, the challah was excellent.Any unusual hobbies?I am a compulsive collector of many things, among them copper cookware (new and antique), New York City restaurant postcards, postcards of Naples and Vesuvius, swizzle sticks, Italian ceramics (mainly new, but I have a few prized antique pieces), gouaches of Naples and Vesuvius, cookbooks (now concentrating on Italian, but naturally I have many, many Jewish, and many, many of other kinds – thousands), storage jars with ground glass stoppers (getting harder to find), Venetian glass candies, silver serving pieces, things made of shells and silver, East Anatolian carpets … I am embarrassed at how long this list is getting, but there's more.What is your favorite sandwich?Pastrami on rye with mustard, at Katz's deli on Houston St.
or
Not Currently Available for Direct Purchase