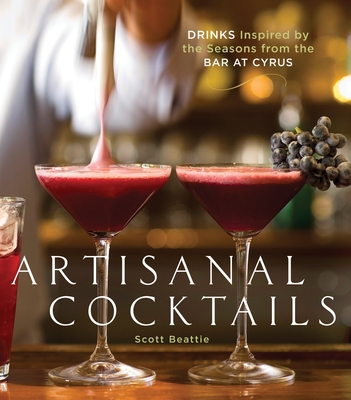 Artisanal Cocktails: Drinks Inspired by the Seasons from the Bar at Cyrus (Hardcover)
Drinks Inspired by the Seasons from the Bar at Cyrus
Ten Speed Press, 9781580089210, 150pp.
Publication Date: November 1, 2008
* Individual store prices may vary.
or
Not Currently Available for Direct Purchase
Description
A lush, full-color collection of 50 cocktail recipes using organic, sustainable produce, handcrafted ingredients, and local artisanal spirits, from the bar manager at the award-winning Cyrus restaurant.
Inspired by the bounty of Sonoma County's organic farms and local distilleries, Scott Beattie shakes up the cocktail world with his extreme twists on classic bar fare. In ARTISANAL COCKTAILS, Beattie reveals his intense attention to detail and technique with a collection of visually stunning and astonishingly tasty drinks made with top-shelf spirits, fresh-squeezed juices, and just-picked herbs and flowers. In creatively named recipes such as Meyer Beautiful (My, You're Beautiful), Hot Indian Date, and the Grapes of Roth, Beattie combines flavors and aesthetics as meticulously as a chef to produce party-worthy concoctions guests won't soon forget.
-Scott Beattie of Healdsburg's Cyrus restaurant turns cocktail creation into an extreme sport.- --Linda Murphy, San Francisco Chronicle
-The most extreme practitioner of this cocktailian focus on fresh and local ingredients is Cyrus's Scott Beattie. The drinks Beattie makes with this bounty are uniformly gorgeous. And Beattie's virgin versions of several drinks are so good that you barely miss the booze.- --Gourmet
-This jewel box of a restaurant features an outstanding bar that showcases an innovative seasonal cocktail list overseen by mixologist Scott Beattie--his Manhattan made with vanilla-infused bourbon is a perfect counterpoint to a day of wine tasting.- --Bon AppetitReviews & Awards
IACP International Association of Culinary Professionals Cookbook Awards, Wine, Beer & Spirits Category Finalist
-Scott Beattie is a virtuoso among drink designers-
--Playboy
-Artisanal Cocktails turns bartending into a culinary art form-
--Men's Journal
-Try something new this year from Artisanal Cocktails....More than just a collection of drinks recipes, the book is full of tips and secrets for making syrups and garnishes as well as techniques for decorating the rim of your crystal.---Metropolitan Home -Artisanal Cocktails is shaping up to become the indispensable cookbook of farm-to-glass cocktails.---New York Times -Beattie confers an innovative flair to classic bar fare in this collection of 50 recipes with gorgeous full-color photos...Beattie's recipes will appeal to the adventurous soul who desires to explore a new approach to cocktail making.---Library Journal
-Beattie's book is a giant leap for cocktail-kind...The beauty of this book goes way beyond the petal-porn of its edible-flower garnishes. Working through a few of Beattie's recipes will give you new skills and techniques, so even if you don't have access to pineapple guavas, you will look at the produce section in a fresh light.-
--Gourmet
-The drinks are stunning to look at....Served with ice and a single, restrained slice of orange, the Painful Punch, as Mr. Beattie calls it, is simple, elegant and delicious....it is one of several excellent recipes in Mr. Beattie's book.-
--The Wall Street Journal's Weekend Journal -Beattie...has created a cocktail book worthy of a chef---Marin Magazine -Beattie is as adept with the classics as he is with his own modern creations.---San Francisco Magazine.
About the Author
Native San Franciscan SCOTT BEATTIE worked the bar at Postrio, Azie, and Martini House before being handpicked to shape the cocktail program at Cyrus. He has been profiled in Gourmet, GQ, Food & Wine, San Francisco Chronicle, and Bon Appetit, among others. Scott lives in Healdsburg, California.
Book Videos
Advertisement