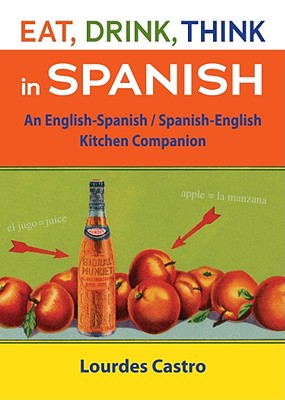 Eat, Drink, Think in Spanish: An English-Spanish/Spanish-English Kitchen Companion (Paperback)
An English-Spanish/Spanish-English Kitchen Companion
Ten Speed Press, 9781580089548, 322pp.
Publication Date: November 10, 2009
* Individual store prices may vary.
or
Not Currently Available for Direct Purchase
Description
Welcome to the first comprehensive bilingual culinary dictionary created specifically for food, wine, and travel aficionados. Teacher, translator, and author Lourdes Castro deftly explains the differences--subtle and otherwise--among the cuisines of Spanish-speaking regions and offers a pronounciation for each term. "Eat, Drink, Think in Spanish" features 2,000 entries for ingredients, cooking methods, condiments, traditional dishes, kitchen equipment, and beverages. The Spanish-English portion will help you break through the language barrier to interpret and understand food and drink "en espaNol," and the English-Spanish part will reveal the most accurate translation for your best-loved foods and favorite cooking techniques.
About the Author
Miami native LOURDES CASTRO is the director of the Culinary Academy at the Biltmore Hotel in Coral Gables, Florida, author of "Simply Mexican," and an on-call translator for the James Beard Foundation and other groups. She teaches food science at New York University and is a regular contributor to the "New York Social Diary"'s dining section.
Praise For Eat, Drink, Think in Spanish: An English-Spanish/Spanish-English Kitchen Companion…
"It's about time we had a resource to help wade through all of the different Spanish and Latin American foods that are appearing in grocery stores and on menus around the country. Lourdes Castro is an ideal guide for anyone interested in broadening their culinary horizon."
 
—Mitchell Davis, vice president of the James Beard Foundation and author of Kitchen Sense
 
"It is with great pleasure that I endorse Eat, Drink, Think in Spanish. Lourdes seems to have her finger on the Latin pulse with this dictionary. This is the perfect guide to the rich culinary diversity that exists in Spain and Latin America."
 
—Cristina Saralegui, journalist and host of El show de Cristina and one of Time's "25 Most Influential Hispanics in America"
 
"Our food culture is suffused with elements from Latin America and Spain, yet so many food-loving Americans are left out of the fun by not understanding the terminology. This book will change all that by illuminating nuanced details across a wide range of cuisines. I am wildly enthusiastic about Lourdes Castro's Eat, Drink, Think in Spanish."
 
—David Rosengarten, author of The Dean & DeLuca Cookbook
Advertisement