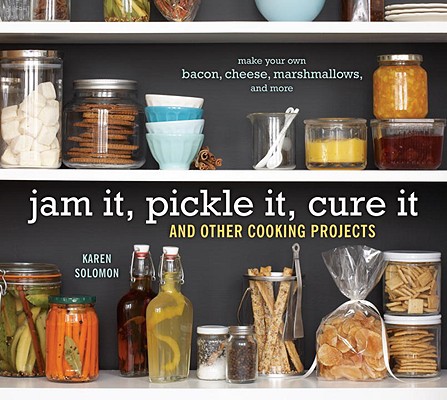 Jam It, Pickle It, Cure It: And Other Cooking Projects (Hardcover)
And Other Cooking Projects
Ten Speed Press, 9781580089586, 148pp.
Publication Date: April 1, 2009
Description
Do you relish the joys of hot toast spread with your own homemade butter and jam? Love to dazzle your friends with jars and tins of choice goodies-all created by you? The kitchen is a paradise for crafty cooks, and whether you're a newcomer to the realm of amateur artisanal edibles or a seasoned food crafter on the prowl for your next batch of appetizing challenges, Jam It, Pickle It, Cure It has recipes galore for you (75, to be exact).
Projects range from perfect pantry staples (Butter, Crackers, Pasta) to festive giftables (Toasted Walnut Brandy, Lemon Curd, Peanut Butter Cups); some give quick gratification (Mayonnaise, Rumkirschen, Potato Chips), while others reward patience (Gravlax, Ricotta Salata, Kimchee). Practical prep-ahead and storage instructions accompany each recipe, several give variations (like Caramelized Onion and Thyme Butter-yum), and most share ideas on how to use it, serve it, and give it away.
Complete with color photographs and the accumulated wisdom of author Karen Solomon's years of food crafting, Jam It, Pickle It, Cure It is your one-stop resource for turning your culinary inspiration into a pantry full of hand-labeled, better-than-store-bought creations.
About the Author
Karen Solomon is a food and lifestyle writer and veteran culinary tinkerer and food crafter. She is the author of The Cheap Bastard's Guide to San Francisco, a contributor to San Francisco magazine and the San Francisco Chronicle, and a former editor and columnist for the San Francisco Bay Guardian. She has also contributed to Chow! San Francisco Bay Area, the SF Zagat Guide, and dozens of Bay Area and national publications. She lives with her partner, son, and food-focused dachshund in (you guessed it) San Francisco, California. Reach her at www.ksolomon.com.
Praise For Jam It, Pickle It, Cure It: And Other Cooking Projects…
"tips so flavor-boosting..., they made us want to snub the squeeze bottles filling our fridges."
—Every Day with Rachael Ray
Book Videos
Advertisement