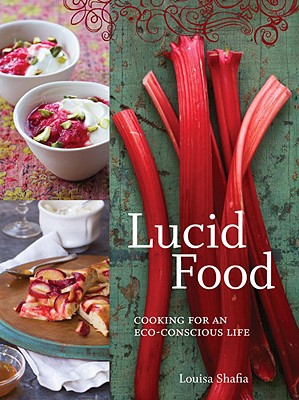 Lucid Food
Cooking for an Eco-Conscious Life [A Cookbook]
Paperback

* Individual store prices may vary.
Description
Green Your Cuisine with Earth-Friendly Food Choices.

With organic and seasonal cooking principles becoming ingrained in today's kitchens, and new buzzwords including locavore and CSA steadily gaining traction, how do we integrate food politics into daily life in ways that are convenient, affordable, and delicious? Lucid Food offers more than eighty-five healthy, eco-oriented recipes based on conscientious yet practical environmental ideals. Sustainable chef and caterer Louisa Shafia demystifies contemporary food issues for the home cook and presents simple, seasonal dishes that follow nature's cycles, such as Baby Artichokes with Fresh Chervil, Apricot Shortcake with Lavender Whipped Cream, and Roasted Tomato and Goat Cheese Soup. Her empowering advice includes how to source animal products ethically and responsibly, support local food growers, and reduce one's carbon footprint through urban gardening, preserving, composting, and more. This cookbook celebrates the pleasures of savoring home-prepared meals that are healthful, honest, pure, additive-free, and transparently made, from the source to the table.
Praise For Lucid Food: Cooking for an Eco-Conscious Life [A Cookbook]…
"Lucid Food isn't just a mere cookbook but a blueprint for accessible, eco-friendly living."
—Organic Spa Magazine, May/June 2010 

"With earthy tones and recipes organized by season, Lucid Food by Louisa Shafia becomes a year-round guide to cooking in rhythm with the earth. Shafia combines tips with unusual recipes that take the stress out of incorporating conscious practices into your daily life."
—Associated Press, 4/20/10

"Whether you are inclined to forage for your food or find it at your local farmers market, Lucid Food: Cooking for an Eco-Conscious Life is a must-read addition to your kitchen bookshelf."
—MarketsofNewYork.com, 4/12/10

"There's no shortage of books that proselytize in favor of local and sustainable eating, but few manage to espouse their arguments in such a tasty manner as Lucid Food: Cooking for an Eco-Conscious Life".
—TastingTable.com
 
"A passionate foodie and an environmentalist, Louisa Shafia, shares her tips for earth-friendly cooking in her cookbook Lucid Food: Cooking for an Eco-Conscious Life (Ten Speed Press, 2009). Recipes for dishes like roasted beets with persimmons over market greens and Indonesian corn fritters are categorized by season to highlight the freshest produce and local ingredients available. It's also packed with information about eco-friendly shopping and more."
—Saveur

"Seasonal and quirky, with challenges for rethinking kitchen habits."
—Washington Post

"Even people who can't boil water will gobble up the gorgeous, easy and veggie-packed recipes in Lucid Food."
—VitalJuice.com
 
"Shafia's non-preachy tone and sparkling enthusiasm make the book an inspiring read, and even the converted can learn a thing or two."
—Philadelphia City Paper
 
"Lucid Food is an exciting guide to eco-friendly eating, with original recipes that are both intriguing and delightful."
—SustainableTable.org
 
"If the lucid photos of heirloom vegetables and recipes for fesenjan (chicken in pomegranate walnut sauce) or imazushi (stuffed tofu pockets) aren't enough substance to win you over, it's the friendly and instructive tips for no-waste entertaining or composting for beginners. This book takes a look at the big picture of food, cherishing the healthy and seasonal, and keeping readers aware of the little ways in which they can make a difference by "greening their cuisine."
—Not Eating Out in New York

"Lucid Food brings seasonal cuisine up a notch with simple dishes that are elegant, delicious, and absolutely beautiful. Readers will learn about cooking with ethnic flavors while also making food choices that are better for themselves and the environment."
—Marcus Samuelsson, chef/co-owner of Aquavit and author of The New American Table
 
"Louisa's approach to cooking is extremely exciting because she really walks the walk. Lucid Food is not just a cookbook of great recipes--it's a friendly, green guide to entertaining, finding the best ingredients, and navigating the often murky waters of eco-conscious living."
—Ming Tsai, chef/owner of Blue Ginger, host/executive producer of Simply Ming, and author of Simply Ming
 
"I've had the privilege of seeing Louisa in her element: the kitchen. The spirit she brings to her meals--the sense of fun, community, and pleasure--comes through loud and clear in this beautiful book. As more and more of us awaken to the social and ecological costs of the American fast food diet, chefs like Louisa show us a real food path that is healthy, accessible, and delectable."
—Anna Lappé, cofounder of the Small Planet Institute and author of Diet for a Hot Planet: The Climate Crisis at the End of Our Fork and What We Can Do about It
 
"Louisa Shafia offers an approachable look at the importance of sustainable eating in today's culture and explains how we can afford to eat organic and local foods. I'm very excited that there is now a book that parents, working professionals, and college students can use in the kitchen to create foods that are healthy for themselves and the planet!"
—Maria Hines, executive chef and owner of Tilth Restaurant
Ten Speed Press, 9781580089647, 208pp.
Publication Date: November 24, 2009
About the Author
Louisa's latest book, The New Persian Kitchen, is a fresh take on the vibrant cuisine of Iran. Her first cookbook, Lucid Food: Cooking for an Eco-Conscious Life, is a collection of seasonal recipes that was nominated for an IACP award. Louisa has cooked at restaurants in San Francisco and New York, including Millennium, Aquavit, and Pure Food and Wine. She has created original recipes for Whole Living, Food Network Magazine, Prevention, and Better Homes and Gardens. Look for her on the Cooking Channel's Taste in Translation series, making Persian kebabs. Learn more about Louisa and watch her cooking videos at lucidfood.com.
Book Videos
or
Not Currently Available for Direct Purchase