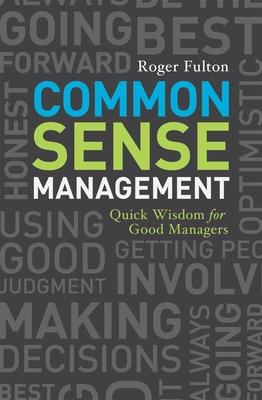 Common Sense Management: Quick Wisdom for Good Managers (Paperback)
Quick Wisdom for Good Managers
Ten Speed Press, 9781580089838, 170pp.
Publication Date: April 28, 2009
* Individual store prices may vary.
or
Not Currently Available for Direct Purchase
Description
For anyone newly promoted to a management position, the influx of expectations and responsibilities can seem daunting. In Common Sense Management, veteran management consultant Roger Fulton distills a career's worth of experience into basic principles, encouragement, and advice. Fulton speaks not only to managers, but also to supervisors and leaders, demonstrating how it's possible to succeed at any level in any industry, and that the same core values and practices apply. With practical sections such as "25 Common Mistakes Made by New Supervisors" and quotations from visionary leaders, from Confucius to Abraham Lincoln, this helpful guide offers motivation and support for anyone looking to succeed in a position of authority.
About the Author
ROGER FULTON brings more than twenty-five years of practical management and leadership experience in both the public and private sectors to his writings on business. He has operated his own management consulting firm since 1990. He lives in Glens Falls, New York. THE AUTHOR SCOOP How did your book, Common Sense Management, come to be? When I got promoted to a supervisory position there was no management training, little guidance, and no mentor. I was thrust into that supervisory position and left to "sink or swim." I vowed at that time that if I ever got the education, training, and experience to write a simple guide for others, I would. And I did. I hope it helps others who are thrust into management positions to succeed and make their business and personal lives less stressful, to say nothing about the increased quality of life for the people who have to work for them. If you had to boil down the message of Common Sense Management to one sentence, what would it be? No theories, no fluff; just good old common sense on how to succeed in the real world of management in any industry. How long did it take you to write Common Sense Management?Well, I had to take the time to make lots of errors, figure out how to correct them, deal with both competent and incompetent bosses (I learned from both), and I spent 13 years in night school and 25 years of practical experience in both the public and private sectors. Then I had to write the book. So the short answer is: a lifetime.
Praise For Common Sense Management: Quick Wisdom for Good Managers…
"its seemingly simple, clearly written advice is probably worth more than a dozen longer, densely written business books. ...the cumulative depth and breadth of the advice are impressive."
—Kansas City Star
Advertisement