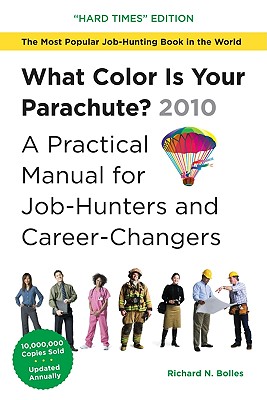 What Color Is Your Parachute? 2010
A Practical Manual for Job-Hunters and Career-Changers
Paperback

* Individual store prices may vary.
Other Editions of This Title:
Paperback (10/1/2008)
Paperback (8/14/2012)
Paperback (8/17/2010)
Hardcover (8/13/2013)
Paperback (8/16/2011)
Paperback (9/1/2006)
Paperback (3/1/2004)
Hardcover (8/17/2010)
Paperback (11/1/1993)
Hardcover (8/16/2011)
Hardcover (9/22/2009)
Prebound (8/12/2014)
Prebound (8/14/2012)
Paperback (5/1/2007)
Paperback (10/1/2004)
Paperback (11/1/2005)
Hardcover (8/14/2012)
Paperback (10/1/2007)
Paperback (4/1/2006)
Description
What Color Is Your Parachute? has been the bestselling job-search book in the world for more than three decades, in good times and bad, and it continues to be a fixture on best-seller lists, from New York Times to BusinessWeek. It has sold more than 10 million copies and has been translated into 20 languages around the world. What Color Is Your Parachute? is streamlined this year to help those struggling to find part-time and full-time employment in these hard economic times acquire the job-search tools they need faster and more efficiently. This classic job-search book is, as always, updated and relevant to today's job market.   

Career guru Richard N. Bolles leads job-searchers to find meaningful employment. He asks, WHAT skills do you most love to use? Where—in what field—would you most love to use them? And how do you search for such a job without depending on employment agencies and ads? This book is not only about finding a job in hard times. It's about finding your passion. In the words of Fortune magazine: "What Color Is Your Parachute? remains the gold standard of career guides."

This New York Times and BusinessWeek bestseller answers such questions as:

• I was just laid off from my current job. What do I do first?
• What are the most helpful job sites on the Internet, out of the thousands that are there?
• What are the five best–and worst–ways to hunt for a job?
• I haven't a clue how to do salary negotiation. Help!
• In general, what are employers looking for?
• What interview questions can I expect to be asked, and how do I answer them?
• I'm over 50. What special problems do I face when I go job-hunting?
• How do I survive financially while I'm out of work, and how do I find health insurance when I have no employer?

[This is the trade paperback edition.]
Praise For What Color Is Your Parachute? 2010: A Practical Manual for Job-Hunters and Career-Changers…
"Forty years after it first was self published...What Color Is Your Parachute? remains a perennial favorite for job hunters." "(It's) the old standby, tried and true," said Birmingham-Southern College's Director of Career Services Michael Lebeau. "(It's) the one that started it all."
—Birmingham News 2010
 
Starred as essential for all library collections. "A best seller for 40 years, this annual guide gives great advice on choosing a suitable career, as well as how to find a job."
—Library Journal 2010
 
"One of the most popular job-hunting guides has been streamlined for 2010. The new edition…tells readers how to find a job more efficiently than ever before."
—amNew York 2010
 
"one of the first job hunting books on the market and remains one of the bestselling books of all time."
—Boston Sunday Globe 2010
 
"the godfather of all pavement-pounders"
—Mark Lange, a former presidential and Labor Department speechwriter who wrote the 1991 State of the Union address (also a contributing writer for Christian Science Monitor 2010)
 
"Richard deserves sainthood for all the people he's helped over the last 27 years. He boils career-searching down to three basic steps: What, Where and How."
—Bob Rosner, United Features Syndicate's "Workplace 911" columnist 2010
 
"one of several books that changed my life. ...it's been in print for almost four decades for a reason."
—New Age Retailer 2010
 
"What Color Is Your Parachute? is about job-hunting and career-changing, but it's also about figuring out who you are as a person and what you want out of life."
—Barbara Kiviat, Time magazine 2009
 
Called Dick Bolles: "guru of all things career related."
—Bob Rosner, United Features Syndicate's "Workplace 911" columnist 2009
 
"I read What Color Is Your Parachute? years ago and found it to be a very empowering book.... Now What Color Is Your Parachute? 2010 is being promoted as the 'Hard Times' edition, and again I'm impressed with the information it provides to allow its readers to seize the day. ...All useful stuff that's more about your quality of life and less about just landing a job."
—Knoxville News Sentinel 2009
 
A "category killer."
—Library Journal 2009
 
"fortified with fresh advice for job hunting in tough times."
—Content That Work's Jobweek 2009

"He's a preacher. He's a career counselor. He's a warm washcloth over the eyes of the desperately unemployed."
—Searcher: The Magazine for Database Professionals 2009
 
"Job seekers, don't despair. Richard Bolles is on your side. At 81, his life's work has been about how to find a job. And not just any job, but the career of your dreams. Even in a recession." 
—Sacramento Bee 2009
 
"Chock-full of revisions and tips relevant to today's circumstances."
—San Francisco Chronicle 2009
 
"The newest edition has been rewritten, updated and expanded to offer tools, support and hope to help job-seekers even in the worst of economic times."
—McClatchy-Tribune News Service 2009
 
"There's Parachute, and then there's all the rest.  . . . Parachute is not just a best-seller, not just a practical manual, and not just a life-changing book. It's a work of genuine love and compassion."
—Career Planning and Adult Development Journal 2009. 
 
"Find success in your job search by picking up a copy of What Color Is Your Parachute?"
—Complete Woman 2009
 
"Parachute has been a perennial favorite of the 'job transition' genre.  . . . Bolles' thoughts and website can help a job seeker at any starting point."
—Sunday Las Vegas Review Journal 2009
Ten Speed Press, 9781580089876, 336pp.
Publication Date: September 22, 2009
About the Author
RICHARD N. BOLLES has been a leader in the career development field for more than thirty-five years. He was trained in chemical engineering at Massachusetts Institute of Technology, and holds a bachelor's degree cum laude in physics from Harvard University and a master's in sacred theology from General Theological (Episcopal) Seminary in New York City. He lives in the San Francisco Bay Area with his wife, Marci.
Book Videos
or
Not Currently Available for Direct Purchase