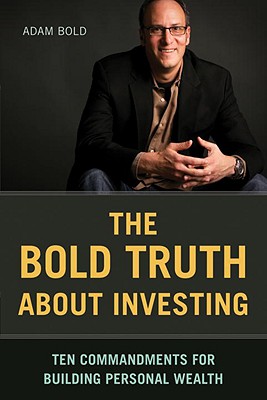 The Bold Truth about Investing: Ten Commandments for Building Personal Wealth (Paperback)
Ten Commandments for Building Personal Wealth
Ten Speed Press, 9781580089883, 135pp.
Publication Date: April 7, 2009
* Individual store prices may vary.
or
Not Currently Available for Direct Purchase
Description
In times of economic uncertainty, it is vital to not only protect your hard-earned assets, but also to stay attuned to new investment opportunities. Mutual funds guru Adam Bold has distilled a back-to-basics approach to personal finance into ten streamlined commandments. Delivered in his signature down-to-earth style, these principles help both novice and seasoned investors navigate the markets to take back control of their financial investments. Armed with self-knowledge, a clear plan, and the tools to identify the good, the bad, and the best mutual funds, investors can follow Bold's savvy advice to build wealth through a solid understanding of good new investment choices.
About the Author
ADAM BOLD is the founder of The Mutual Fund Store, a nationwide fee-based investment advisory service. He also hosts The Mutual Fund Show, a nationally syndicated weekly radio program. His expertise in the financial sector has made him a frequent contributor to national media outlets, including Fox Business, CNBC, Forbes, and SmartMoney. THE AUTHOR SCOOP Who would you cast as yourself in a movie of your life? Tom Hanks Who is your hero? My dad, he has been a great mentor in my life Any unusual hobbies? Car racing What book do you re-read every few years? The Princess Bride What do you find most rewarding about your work?I enjoy teaching people how to make their financial future different. It is very rewarding to know that you are helping people send their kids to school and live the rest of their lives. I also have the Mutual Fund Store Foundation that is important to me because it gives me the ability to give back (www.MutualFundStore.com/foundation).
Praise For The Bold Truth about Investing: Ten Commandments for Building Personal Wealth…
"Bold offers a very approachable introduction to the issues of investing and building long-term wealth. A fine starting point for readers who want to take control of their financial future, but don't know where to begin." --Elizabeth Ody, Kiplinger's Personal Finance "Adam Bold left a lucrative wire-house brokerage career for the risk of going it alone and the rewards of being able to give unbiased advice to mutual fund investors who are too often steered by the concerns of marketers rather than their advisers. Bold has integrity. That's why I use him as a frequent source." --Michael Maiello, Forbes 
Advertisement