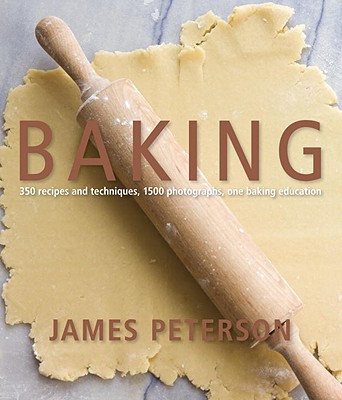 Baking (Hardcover)
Ten Speed Press, 9781580089913, 378pp.
Publication Date: September 29, 2009
* Individual store prices may vary.
or
Not Currently Available for Direct Purchase
Description
The learn-to-bake master class in a book. The craft of baking is based on good technique. Learn the fundamentals well, and you can bake perfect cakes, cookies, tarts, breads, and pastries each and every time. That's the premise of Baking, revered cooking teacher James Peterson's master course in baking fundamentals. In more than 350 recipes and auxiliary techniques--most accompanied by illuminating step-by-step photographs--Peterson lays the foundation for lifelong baking success. This book teaches you how to build finished baked goods from their essential components, providing both maximum guidance for less experienced bakers and great creative freedom for more confident bakers. The Cakes chapter, for example, presents basic cake recipes (Moist Sponge Cake, Devil''s Food Cake) followed by frostings, fillings, and glazes (Professional-Style Buttercream, White Chocolate Ganache), allowing you to mix and match endlessly. Or, if you're looking for knockout assembled cakes, go to the end of the chapter and discover complete illustrated instructions for, say, a decadent Chocolate Hazelnut Cake with Chocolate Filling and Hazelnut Buttercream, or an elegant Peach Creme Mousseline Cake. Baking is packed with the basic, must-have recipes for every baker's repertoire (as well as more ambitious classics), such as: Pound Cake - Creme Anglaise - Chiffon Cake - Cheesecake - Classic Puff Pastry - Cherry Pie - Lemon Meringue Pie - Miniature Raw Fruit Tarts - Linzertorte - Cream Puffs - Chocolate Croissants - Cheese Danish - Basic Butter Cookies - Lemon Bars - Biscotti - Challah - Rye Bread - Focaccia - Blueberry Muffins - Scones - Flourless Chocolate Cake - Cheese Souffles - Miniature Cake Petits Fours - Apple Strudel - Napoleons - Rolled Fondant - Buche de Noel - Eclairs - Mushroom Jalousie Copious photographs inspire and help bakers visualize the crucial moments of hundreds of recipes and techniques, including: Troubleshooting Tarts and Pies - Baking "Blind" - Making Liquid Fondant - Coating a Cake with Hot Icing - Assembling a Layer Cake without Using a Cake Stand - Decorating a Cake with a Caramel Cage - Coloring Marzipan - Making a Rolled Cake - Decorating Cookies with Colored Sugar - Filling and Using a Pastry Bag - Kneading Wet Dough in a Food Processor - Scoring Dough - Shaping a Fougasse - Repairing Chocolate Mixtures that Have Seized - Cooking Sugar Syrup to the Soft Ball Stage Thorough, approachable, and authoritative, Baking shows why James Peterson is a trusted source for home cooks of every level. Work your way through this book, and you will gain the skills you'll need for impressive results every time.
About the Author
JAMES PETERSON is an award-winning food writer, cookbook author, photographer, and cooking teacher who started his career as a restaurant cook in Paris in the 1970s. He is the author of fifteen titles, including Sauces, his first book and a 1991 James Beard Cookbook of the Year winner, and Cooking, a 2008 James Beard Award winner. He has been one of the country's preeminent cooking instructors for more than twenty years and currently teaches at the Institute of Culinary Education (formerly Peter Kump's) in New York. He is revered within the industry and highly regarded as a professional resource. James Peterson cooks, writes, and photographs from Brooklyn, New York.
Praise For Baking…
"You'll find James Peterson's James Beard Award-winning tome, Cooking, on the shelves of every Cooking Light food editor. He has a special talent for friendly and thorough instruction, which is also evident in Baking."
—Cooking Light, Favorite Cookbooks, 2010

"This workhorse of a guidebook (a sequel title to Cooking by the James Beard–winning author), is a worthy baking school between covers. Jam-packed with instructional photos accompanying a carefully created modular approach that aims to "teach you to think like a baker," the work features over 300 recipes, mostly classics based in the French tradition. The five chapters—Cakes; Pies, Tarts and Pastries; Cookies; Breads, Quick Breads, and Bread-based Desserts; and Custards, Soufflés, Fruit Curds and Mousses—include a comprehensive overview, sidebars on techniques and recipes designed to teach techniques that can be used in more than the recipe listed. While you won't find innovative recipes, all the basics are here—classic puff pastry dough, sheet cakes, chocolate chip cookies, baguettes—along with classic, fanciful treats such as frangipane tart, madeleines, Grand Marnier soufflés and chocolate croissants. While not glamorous, this is a comprehensive title." (Nov.)
—Publishers Weekly, Starred Review

It will soon be said--if it hasn't been already--that one could learn everything one needs to know about cooking by simply having and using James Peterson's books. This latest addition to his ever-impressive collection fills in the previously missing piece--baking--with gusto and thoroughness. It has already become my go-to all-purpose baking and pastry reference when teaching my own students and also when I'm baking at home.
—Peter Reinhart, baking instructor at Johnson & Wales University and author of Peter Reinhart's Artisan Breads Every Day

For years, cooking has benefited from James Peterson's classy, classic touch. With camera in one hand and rolling pin in the other, he's finally turned his savvy and creativity to Baking, and we get to peek over his shoulder--a delight for both eye and palate.
—Pam Anderson, USA Weekend food columnist and cookbook author 

Bakers rejoice! At last, James Peterson has turned his talents to the subject dearest to our hearts. Clearly written and beautifully illustrated, Baking brings the classics of the canon within reach of every serious home baker.
—Dorie Greenspan, author of Baking from My Home to Yours

Trust me--you need this book! With groundbreaking clarity, James Peterson masterfully demystifies baking in this visually mesmerizing, user-friendly manual that guarantees any baker a more intuitive, confident approach to the art.
—Flo Braker, author of Baking for All Occasions and The Simple Art of Perfect Baking

This book makes the complicated and often secret techniques of baking plain and simple, with hundreds of photos to walk you through the hard parts. It' s all you really need to learn it all.
—Gale Gand, author of Chocolate and Vanilla 
Advertisement