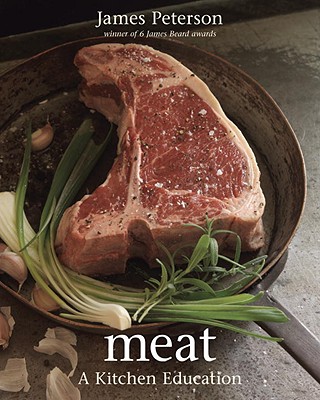 Meat: A Kitchen Education (Hardcover)
A Kitchen Education
Ten Speed Press, 9781580089920, 336pp.
Publication Date: October 26, 2010
Description
Meat: A Kitchen Education is award-winning author James Peterson's guide for carnivores, with more than 175 recipes and 550 photographs that offer a full range of meat and poultry cuts and preparation techniques, presented with Peterson's unassuming yet authoritative style. Instruction begins with an informative summary of meat cooking methods: sauteing, broiling, roasting, braising, poaching, frying, stir-frying, grilling, smoking, and barbecuing. Then, chapter by chapter, Peterson demonstrates classic preparations for every type of meat available from the butcher: chicken, turkey, duck, quail, pheasant, squab, goose, guinea hen, rabbit, hare, venison, pork, beef, veal, lamb, and goat. Along the way, he shares his secrets for perfect pan sauces, gravies, and jus. Peterson completes the book with a selection of homemade sausages, pates, terrines, and broths that are the base of so many dishes. His trademark step-by-step photographs provide incomparable visual guidance for working with the complex structure and musculature of meats and illustrate all the basic prep techniques--from trussing a whole chicken to breaking down a whole lamb. Whether you're planning a quick turkey cutlet dinner, Sunday pot roast supper, casual hamburger cookout, or holiday prime rib feast, you'll find it in Meat along with: Roast Chicken with Ricotta and Sage; Coq au Vin; Duck Confit and Warm Lentil Salad; Long-Braised Rabbit Stew; Baby Back Ribs with Hoisin and Brown Sugar; Sauerbraten; Hanger Steak with Mushrooms and Red Wine; Oxtail Stew with Grapes; Osso Buco with Fennel and Leeks; Veal Kidneys with Juniper Sauce; Lamb Tagine with Raisins, Almonds, and Saffron; Terrine of Foie Gras; and more. No matter the level of your culinary skills or your degree of kitchen confidence, the recipes and guidance in Meat will help you create scores of satisfying meals to delight your family and friends. This comprehensive volume will inspire you to fire up the stove, oven, or grill and master the art of cooking meat. Winner - 2011 James Beard Cookbook Award - Single Subject Category
About the Author
James Peterson is a food writer, cooking instructor, and photographer who began his culinary career as a restaurant cook in Paris in the 1970s. Returning to the United States in the 1980s, he honed his French cooking techniques during his tenure as chef-partner at Le Petit Robert in New York. A highly regarded cooking instructor for more than two decades, Peterson teaches at the Institute of Culinary Education (formerly Peter Kump's New York Cooking School). His first book, Sauces, won two 1992 James Beard Awards; Vegetables, Glorious French Food, Cooking, and Baking have earned him four more James Beard Awards. Peterson cooks, writes, and photographs from Brooklyn, New York.
Praise For Meat: A Kitchen Education…
"From roast turkey to veal piccata and everything in between (quail, rabbit, goat...), cooking authority James Peterson makes sure you get the most expensive part of the meal right."
—Cooking Light, Favorite Cookbooks, 2010

"I also admire Meat: A Kitchen Education by James Peterson, a knowledgeable work about cooking and eating animal flesh (this is what we're doing when we serve steak, or a pork shop, or a rack of lamb, and it's important to acknowledge this).  Lots of color process shots which I love."
—Michael Ruhlman, Books for the Holidays, 12/13/10

"A treasure trove. It's chock-full of not only recipes, but also techniques, illustrative photographs, and detailed explanations of every facet of meat preparation. If you've ever wondered how to properly butterfly a leg of lamb or truss a chicken, this is the book you want on your kitchen shelf. . . . Meat is sure to become a constant companion in our kitchens."
—TheKitchn.com, 12/9/10

"With a recipe for almost every cut of beef, pork and lamb, plus poultry and game, "Meat" also offers step-by-step photos for the curious carnivore."
—The New York Times Book Review, Web Extra: 25 More Cookbooks, 12/3/10

"This James Beard Award winning cookbook author has staked his reputation on single-topic explorations. This one has made a successful play in becoming our go-to primer for home butchery. Although the recipes are delicious, they function more as a teaching tool (with step-by-step color photos) than a dinner plan."
—Tasting Table National, 12/3/10

"Few food experts in the world have more knowledge — or a brighter ability to impart that knowledge — than James Peterson, whose previous one-subject books are essentials. His latest, "Meat," follows the trend, with crystal-clear instructions and advice on meats of all varieties, from chicken to rabbit to beef. Meat geeks will revel in the details, and step-by-step pictures make it idiot-proof."
—Denver Post, 2010's Best Cookbooks, 12/1/10

"a new bible for any cook."
—Booklist, 11/15/10

"Peterson not only knows how to cook, but knows how to explain it clearly to just about anyone."
—Cooking with Amy, 11/11/10

"A great kitchen reference book."
—Milwaukee Journal-Sentinel, 11/3/10

"James Peterson, the writer of several excellent single-topic cookbooks, has lately turned his meticulous eye to meat cookery. He opens Meat: A Kitchen Education (Ten Speed Press, $35), which will hit bookstores this fall, by telling us that we should cook and eat less meat, for our health and that of the planet, but that he wants us to enjoy it more. For Peterson, that means achieving exquisite meat dishes by means of classical techniques. Aided by an abundance of photographs, all of which he took himself, the acclaimed cooking instructor does a thorough job of passing along those techniques to home cooks."
—Saveur, May 2010

"When I read the introduction to Meat: A Kitchen Education, I wanted to stand up and cheer. James Peterson and I share a deep passion for great meat, and a respect for all animals whose lives are taken for our food. If you subscribe, as I do, to the philosophy of "eat less meat, eat better meat, and enjoy it more," then this book will guide you on that journey. Whichever recipe you choose, Meat will help you make something sensible and delicious."
—Bill Niman, rancher and founder, Niman Ranch
 
"James Peterson's body of work is already substantial. To it, he adds this thorough, informative, compelling, and impressively illustrated book about meat. What I admire about Peterson's work is the way he makes the chef's knowledge so clear and accessible to the home cook."
—Michael Ruhlman, author of The Elements of Cooking and Ratio
 
"Well explained, factual, useful—the home cook as well as the professional will learn from Meat: A Kitchen Education."
—Jacques Pépin, cooking instructor, author, and host of Fast Food My Way
 
"Meat: A Kitchen Education delivers what the title promises. It is packed full of expert advice on cooking all types of meats, poultry, and game. But better than using only words to describe important methods and techniques, Peterson uses detailed photographs to give the reader visual instruction. His simple recipes rely on classic ingredients and techniques, and will make any beginner adept at cooking meat. More advanced cooks will appreciate his chapters on sausage and pâté making, as well as his step-by-step photos for preparing foie gras."
—Bruce Aidells, author of Bruce Aidells's Complete Book of Pork and coauthor of The Complete Meat Cookbook
Advertisement