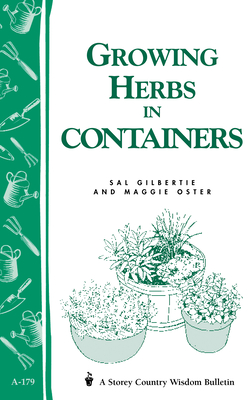 Growing Herbs in Containers
Storey's Country Wisdom Bulletin A-179 (Storey Country Wisdom Bulletin)
Paperback

* Individual store prices may vary.
Description
Since 1973, Storey's Country Wisdom Bulletins have offered practical, hands-on instructions designed to help readers master dozens of country living skills quickly and easily. There are now more than 170 titles in this series, and their remarkable popularity reflects the common desire of country and city dwellers alike to cultivate personal independence in everyday life.
Storey Publishing, LLC, 9781580170147, 32pp.
Publication Date: January 4, 1998
About the Author
A leading expert in herbs, Sal Gilbertie is the president of Gilbertie's Herb Gardens, Inc., of Westport (where he holds year-round decorating workshops) and Easton, Connecticut, where he resides. An herb supplier to garden centers across the country, his business is a family affair--his wife, Marie, and his four children are involved in the operation as well. Sal's books include: Herbs for the Holidays, Home Gardening at Its Best, Herb Gardening at Its Best and Kitchen Herbs, which received an International Association of Culinary Professionals (IACP) award. Sal has appeared on many television and radio shows, including Martha Stewart Living, Home Matters on the Discovery Channel, and the Home Show on the Lifetime Channel.
Author Maggie Oster has been cooking since she was five years old. A trained horticulturist, freelance writer and photographer, Maggie has also written other Storey book titles including Herbal Vinegar and Herb Mixtures & Spicy Blends. In addition, she has written the books The Potato Garden, Flowering Herbs, Gifts and Crafts from the Garden and Recipes from an American Herb Garden. She attended graduate school at Cornell University, and was former editor of an indoor and container-gardening magazine based in Seattle, Washington. Maggie has also contributed to Rodale's Basic Natural Foods Cookbook, has written monthly columns for The Weekend Gardener Journal and Louisville Today magazines, and won an award for an article and photographs on cooking with edible flowers in The Newark Star-Ledger. She lives in Kentucky.