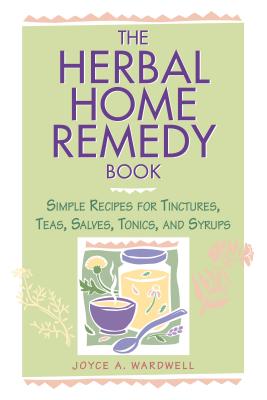 The Herbal Home Remedy Book (Paperback)
Simple Recipes for Tinctures, Teas, Salves, Tonics, and Syrups
Storey Publishing, LLC, 9781580170161, 176pp.
Publication Date: January 3, 1998
* Individual store prices may vary.
Description
Acquire herbal healing wisdom with this guide to gathering, drying, storing, and blending 25 common herbs. Joyce A. Wardwell shows you how to build your own all-natural home medicine cabinet, providing simple recipes for soothing tinctures, salves, tonics, syrups, teas, and lozenges. With gentle, plant-based solutions to ailments ranging from muscle cramps and indigestion to dry skin and sore throats, this comprehensive guide is full of natural remedies that will keep your whole family healthy. 
About the Author
Herbal educator and speaker Joyce A. Wardwell has been studying herbal medicine and wild edibles for over 20 years. Editor and publisher of Herbal Voices, Joyce has also written for Country Journal magazine and has authored the Storey book, The Herbal Home Remedy Book. She is a member of the American Herbalists Guild and Northeast Herb Association. Additionally, Joyce is the director of 7th Direction, a non-profit, sustainable lifestyle organization. She currently lives in East Jordan, Michigan.