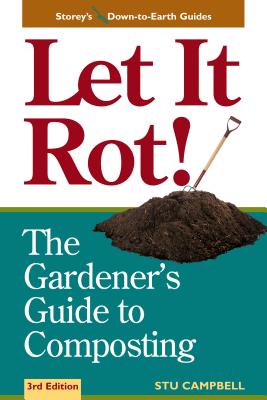 Let It Rot! (Paperback)
The Gardener's Guide to Composting (Third Edition)
Storey Publishing, LLC, 9781580170239, 160pp.
Publication Date: January 3, 1998
* Individual store prices may vary.
Description
Transform leaves, grass, and kitchen scraps into gardener's gold! This easy-to-use guide shows you how to turn household garbage and backyard refuse into nutrient-filled compost that can nourish your soil and promote a thriving garden. You'll soon be saving money, minimizing waste, and enjoying bountiful harvests.
About the Author
The late Stu Campbell lived and gardened in Stowe, Vermont. He was the author of Let It Rot!, a guide to home composting with over 340,000 copies in print; Mulch It!; and The Home Water Supply.
Praise For Let It Rot!: The Gardener's Guide to Composting (Third Edition)…
"…the composter's bible…Let It Rot will change the way you look at your garbage." – Horticulture Review
"A good general book for setting up a composting system." — Natural Health
"This is the book we most often use in our composting classes at the Garden.  The content is excellent, easy, and entertaining to read." – Brooklyn Botanic Garden's Plants & Gardens News
"The little classic that introduced thousands to composting." – The Boston Globe
"An excellent paperback book … an easy read with plenty of clear advice." –The Cincinnati Enquirer
"The best book on composting I've found." — Howard Garrett in The Dallas Morning News
"…perhaps the most comprehensive book available on composting …from a publisher that all serious gardeners should know about." – Marke Andrews in the Vancouver Sun
"Campbell is an experienced gardener and the book goes in to great detail but the text remains clear and interesting." – Library Journal
"This paperback thoroughly covers the subject, touching on various composting methods, types of containers, where to locate the compost heap, procedures and what to do with the finished product." –Fort Worth Star-Telegram
"…the composting stand-by…" – Salt Lake Tribune


"The classic guide to making compost and leaf mold and what to do with it once you've made it." – Chicago Tribune
"…the composter's bible…Let It Rot will change the way you look at your garbage." – Horticulture Review
"A good general book for setting up a composting system." — Natural Health
"This is the book we most often use in our composting classes at the Garden. The content is excellent, easy, and entertaining to read." – Brooklyn Botanic Garden's Plants & Gardens News
"The little classic that introduced thousands to composting." – The Boston Globe
"An excellent paperback book … an easy read with plenty of clear advice." –The Cincinnati Enquirer
"The best book on composting I've found." — Howard Garrett in The Dallas Morning News
"…perhaps the most comprehensive book available on composting …from a publisher that all serious gardeners should know about." – Marke Andrews in the Vancouver Sun
"Campbell is an experienced gardener and the book goes in to great detail but the text remains clear and interesting." – Library Journal
"This paperback thoroughly covers the subject, touching on various composting methods, types of containers, where to locate the compost heap, procedures and what to do with the finished product." –Fort Worth Star-Telegram
"…the composting stand-by…" – Salt Lake City Tribune