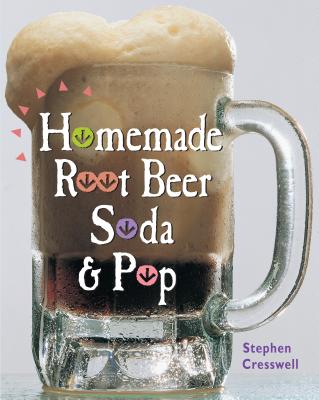 Homemade Root Beer, Soda & Pop (Paperback)
Storey Publishing, LLC, 9781580170529, 128pp.
Publication Date: January 6, 1998
* Individual store prices may vary.
Description
Add some fizzy sparkle to your life and discover the delicious and refreshing world of homemade soft drinks. Drawing on centuries-old traditions from American general stores and pharmacy soda fountains, this fun and informative guide has recipes for perennial favorites like birch beer and ginger beer, as well as more adventurous concoctions like Molasses Switchel and Dandelion Champagne. Stephen Cresswell provides easy-to-follow directions that cover everything from extracting the earthy undertones of sassafras for an exciting root beer to whipping up a caffeine-charged Coffee Whizzer. 
About the Author
Stephen Cresswell is a history professor at West Virginia Wesleyan College and an avid homebrewer of beers and soft drinks, which accounts for his extensive research on historical recipes and old fashioned brewing techniques found in his book, Homemade Root Beer, Soda & Pop. 
Praise For Homemade Root Beer, Soda & Pop…
"This how-to book should appeal to those who don't mind spending two hours to make a dozen bottles of signature soda." — Kansas City Star
"Yes, there is fun and adventure in the world of soft drinks, which Stephen Cresswell proves." — Pittsburgh
"This book gets an A+. A good variety of old fashioned recipes." — American Herb Association
"There's a new book that will tell you everything you want to know about sarsaparilla, switchel, and more … You can make your own home brewed soft drinks pretty easily." — Anthony Dias Blue on WCBS Newsradio 88 Food & Wine report
or
Not Currently Available for Direct Purchase