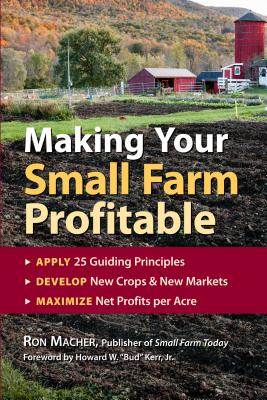 Making Your Small Farm Profitable (Paperback)
Apply 25 Guiding Principles/Develop New Crops & New Markets/Maximize Net Profits Per Acre
Storey Publishing, LLC, 9781580171618, 288pp.
Publication Date: January 10, 1999
* Individual store prices may vary.
Description
Turn your farm into a cash cow! Ron Macher offers a host of simple strategies for increasing your farm earnings, from purchasing durable equipment to growing economically viable crops. A seasoned expert in farm efficiency, Macher shows you how to locate a lucrative niche market for your products, optimize sales, and minimize costs. Whether you're buying a new farm or jump-starting an old one, Macher's savvy tips will help you turn your enterprise into a profitable business.
About the Author
Ron Macher is publisher and editor of Small Farm Today, a magazine read by 26,000 farmers in the 50 states and in 15 countries. He has also written the Storey title, Making Your Small Farm Profitable, a book filled with proven methods and reasonable planning, farming, and marketing advice. Ron has been a farmer for more than 30 years. His success has rewarded him many times, including being named one of the top 25 agricultural leaders in the United States by Farmer's Digest as well. He currently serves on the Missouri Governor's Advisory Council on Agriculture and on the USDA-SARE (Sustainable Agriculture Research and Education) Executive Committee.