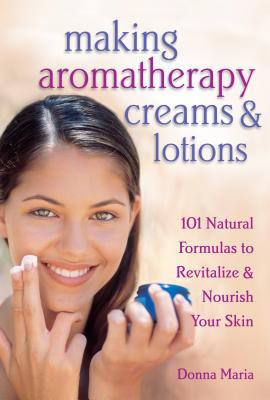 Making Aromatherapy Creams & Lotions (Paperback)
101 Natural Formulas to Revitalize & Nourish Your Skin
Storey Publishing, LLC, 9781580172417, 168pp.
Publication Date: July 15, 2000
* Individual store prices may vary.
Description
Nourish and revitalize your skin with your own handcrafted creams and lotions. Donna Maria shares her simple five-step method for creating fragrant all-natural body rubs, facial creams, lip balms, moisturizers, and more. Explore how aromatic oils can effectively preserve and protect your skin, and learn how to craft products that target your skin's specific needs. You'll be amazed at how your products, which are both inexpensive and free of harsh chemicals, can help promote healthy and vibrant skin. 
About the Author
Author Donna Maria is an attorney, an aromatherapist, and the founder and president of The Handmade Toiletries Network. Her book Making Aromatherapy Creams & Lotions is a must-have collection of tips and recipes for creating unique body care products. Her articles have appeared in such magazines as The Aromatic Thymes, The Natural Foods Merchandiser, The Saponifier, and The Handcrafted Soap Maker's Guild Newsletter. Donna is a member of the Aromatic Plant Project, the American Society of Association Executives, the Cosmetics, Toiletries & Fragrances Association, the Handcrafted SoapMaker's Guild, and the National Association For Holistic Aromatherapy. She lives in her hometown of Washington, DC.